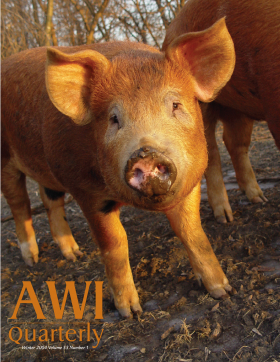 About the Cover
On a brisk winter day, a young gilt on the Minnesota farm of Arvid and Lois Jovaag momentarily interrupts rooting for morsels with her companion to gaze at the camera. Soon, she will become a breeding sow and join the Jovaag's other sows to live in a cohesive social group. Unlike sows raised as youngsters in barren factory environments and housed in crates as adults, she has lived in free association with other pigs all her life. Her early social experiences will prepare her and her companions for a smoother integration into the larger group of sows they will join. In winter on the Jovaag farm, pregnant sows are housed indoors on fresh straw. In the summer, they live on wooded pastures. Although they are fed as a group, the enriched environment and social opportunities the Jovaags provide enable their sows to avoid the unresolved competition and excessive injuries recorded among group-housed sows in the recent study published by the Journal of the American Veterinary Medical Association and reviewed on pages 4-5.
Photo by Marlene Halverson/AWI
FARM ANIMALS
This Mad Cow Went to Market...
Will AVMA See the Light?
Sows Should Not Be Confined to Crates
A Successful System for Housing Pregnant Sows in Groups
The Cormo Express: Australia's Latest Live Export Shame,
by Carole de Fraga
WILDLIFE
The "Taiping Four" Gorilla Scandal,
by Shirley McGreal
An Ounce of Prevention
The Corporate Corruption of Science,
by Jeff Short
Ethiopian Wolves Hit by Rabies Outbreak
ESA Listing for Tibetan Antelope Likely
NEWS FROM CAPITOL HILL
A Busy Autumn for Congress
Coalition Formed to Pass the Horse Slaughter Act
John Gleiber Begins Sleeping Late
MARINE ANIMALS
The Global Captivity Challenge
Activists Battle Whale and Dolphin Slaughter in Japan
Keiko-Free At Last,
by Ben White
FREE TRADE
The New Miami Dolphins,
by Ben White
US Expands Hemispheric Trade Domination
BOOK REVIEW
ONE at a Time: A Week in an American Animal Shelter,
by Adam M. Roberts