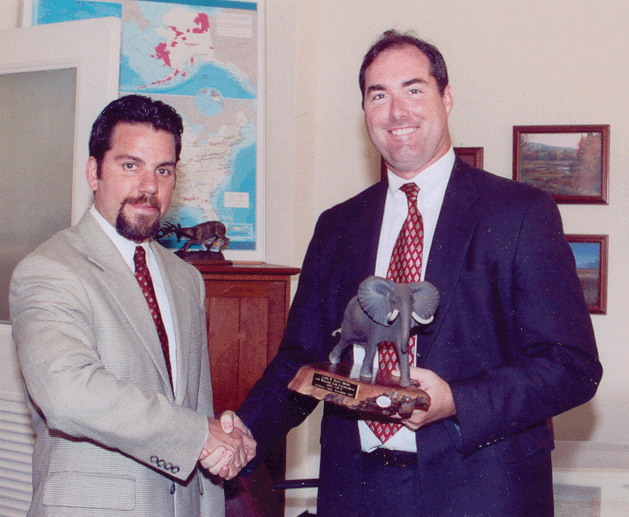 Wildlife law enforcement is dangerous and challenging work," said Willem Wijnstekers, the Secretary-General of the Convention on International Trade in Endangered Species of Wild Fauna and Flora (CITES). "There are many unsung heroes, men and women who risk their lives in an effort to protect wildlife and prevent illegal activities." On November 6, 2002, in Santiago, Chile, a number of these conservation heroes were honored with the Clark R. Bavin Wildlife Enforcement Awards, presented by the Animal Welfare Institute in collaboration with the Species Survival Network coalition.
The Bavin award is named for a pioneer in the field of wildlife law enforcement who headed the Division of Law Enforcement of the United States Fish and Wildlife Service. This year's awards were magnificent elephant sculptures generously donated by artist John Perry. The following individuals received awards this year, presented by Mr. Wijnstekers, in recognition of their achievements in wildlife protection. As the Secretary-General noted, these individuals' "efforts behind the scenes, on the ground, often go unnoticed-but never unappreciated."
Captain Ibrahim A. Ogle is head of the Kenya Wildlife Service (KWS) Airwing and a twelve year veteran of KWS, where he entered as a patrol pilot in the national parks. Over the years he was personally engaged in numerous incidents during which KWS units were confronted by well-armed poaching gangs. He led a team that faced a gang of thirty commercial poachers armed with fully automatic military rifles and explosive projectiles. The gang was attacking elephants and rhinos in Tsavo East National Park. He has also used his flying skills to rescue and evacuate stranded tourists and orphaned infant elephants. KWS Airwing is a critical ingredient in Kenya's campaign to protect wildlife; Captain Ibrahim Ogle is the central figure responsible for the Airwing's success.
Major Carmen Castro has worked for the Costa Rican coast guard for seven years and currently holds the grade "Comandante." She has been very active in addressing illegal fishing and hunting of sea turtles, sharks, fish, and mollusks and also in trying to stop illegal trafficking in birds (mainly parrots) by sea. She has also been a major force behind efforts to economically evaluate the environmental costs of illegal fishing and hunting. The first example was a study to quantify the value of endangered green turtles. The case is still in the courts, and it is hoped that the study will be used to set a legal precedent for higher fines against poaching of sea turtles and their eggs. She has also conducted an evaluation of the economic costs of illegal shark fishing around Cocos Island in Pacific, Costa Rica. The study will be used in a court case against an Ecuadorian pirate fisherman.
Mr. Karl Karugaba is a Ugandan wildlife officer appointed to serve as a field officer with the Lusaka Agreement Task Force headquarters in Nairobi. During June 2002, Mr. Karugaba worked undercover in southern Africa where he became a key figure in collecting intelligence data that led to the seizure of 6.5 tons of elephant ivory in Singapore on June 26, 2002. As a result of Mr. Karugaba's inquiries, Lusaka Agreement Task Force headquarters was informed that more than six tons of raw ivory, plus 40,810 rough cut ivory signature seals had been packed into wooden boxes enclosed within a shipping container. Mr. Karugaba secured descriptions and serial numbers for these shipping containers and passed the information onto INTERPOL law enforcement authorities in Singapore, who helped seize the contraband consignment.
Special Agent Edward Grace of the U.S. Fish and Wildlife Service helped dismantle a smuggling operation that had brought over 20,000 pounds of endangered sturgeon roe (caviar) into the United States, valued in excess of 12 million dollars. Agent Grace also broke up an elephant ivory smuggling ring that led to two of the largest ivory seizures in the United States in the past five years. The two ring leaders from the Ivory Coast, attempting to import about half a million dollars of ivory for African art markets in the U.S., were convicted and sent to prison. Still another investigation led to the conviction of a retail dealer who was selling endangered wildlife specimens and parts in an affluent shopping district of New York City: a chimpanzee skeleton, ash trays made from gorilla feet, gorilla skulls, tiger rugs, stuffed pangolin, chimpanzee skulls, bald eagle parts, and numerous other endangered species. Agent Grace has also worked with governments across the globe to help stem the tide in the illegal wildlife trade. For instance, he traveled to Kenya to assist the Kenya Wildlife Service in an investigation that led to a large seizure of ivory and rhino horn products.
Mr. Richard Charette has been working for more than 30 years with the Canadian Wildlife Service, starting as a Park Ranger in 1971. Since that time, he has been a wildlife inspector and has been intricately involved in the preparation of CITES identification guides of very high quality. His guides on birds, turtles and tortoises, butterflies, sturgeon and paddlefish, and tropical woods are vital tools for wildlife law enforcement officers and inspectors at points of entry who need to distinguish different animal species, including animal parts and products made from endangered and threatened animals.