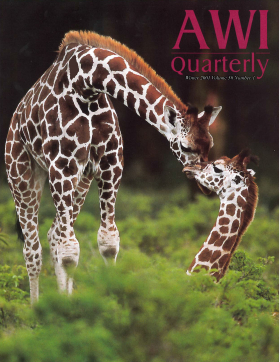 About the Cover
While winding through the forested area of Lake Nakuru National Park in Kenya, photographer Mark Thomas rounded a corner to see just the heads and necks of two young Rothschild's Giraffes poking up above the bushes while they rested. Thomas writes: "After a while one of the young giraffes decided to stretch his legs a bit and go visit his mother. But before leaving, the giraffe walked over to give a young friend a gentle greeting as if to say 'are you coming with me?'" Although the giraffe, the tallest mammal on earth, is not globally threatened with extinction, it is among the species of wildlife being systematically destroyed during the current political unrest in the African nation of Zimbabwe (see story on page 11).
Photo by Mark Thomas
TABLE OF CONTENTS
Marine Animals
Clinton Decides Against Sanctions
Norway Announces Plan to Sell Whale Meat and Blubber to Japan
How Old Can a Whale Live to Be?
Don't Order the "Sea Bass"
Farm Animals
The Water Keeper Alliance Institutes Legal Attack on Pig Factories
National Gathering Calls for Humane, Sustainable Hog Farming
The Kingdom of the Pigs
by Vangelis Stoyannis
European Commission Proposes Improvements in Welfare Conditions of Pigs
Mother Nature Exposes the Cruelty Inside Factory Farms
by Wendy Swann
Wildlife and Forests
Biomusic's Contribution to Science
The Elephant Listening Project
by Melissa Groo
Animals Caught in Zimbabwe's Anarchical Land Grab
by Adam M. Roberts
Fight to Save Orangutans Intensifies
by Dave Currey
Chinese Government Pardons 500 Bears
Reports Highlight Cruelty and Illegality
Bronx Reptiles, Inc. Slithers Through the Law's Grasp
New Policy Against Cutting of Old Growth Timber
Laboratory Animals
Coulston Rejected but the Death Toll Rises
Monkeys Suffer in Solitary Confinement at Oregon Primate Center
All Laboratory Animals Deserve Protection
Rattling the Cage: Toward Legal Rights for Animals
Legislation
Washington Bans Steel-Jaw Leghold Traps by Citizen Initiative
In Remembrance of Congressman Bruce Vento (1940-2000)
Flourishing Finish to the 106th Congress