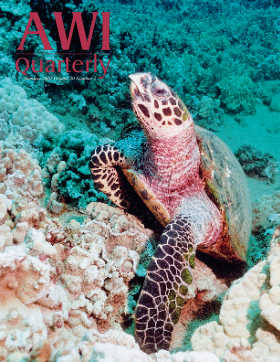 About the Cover
Cover photograph of Ake by Ursula Keuper-Bennett who recognizes individual sea turtles. Her husband Peter Bennett and she maintain a web site on sea turtles (www.turtles.org). The WTO recently upheld US regulations that prohibit shrimp imports from countries that do not employ turtle-protection devices (see page 11). Turtles are poached cruelly for their shells, which are made into curios and sold on the Japanese market. A conservation Protocol for the Wider Caribbean Region concerning Specially Protected Areas and Wildlife (SPAW) can help protect turtles from international trade (see pages 8-9). It is urgent that the US ratify this Treaty in time for the meetings this September. Write Secretary of State Colin Powell (Department of State, 2201 C Street, NW, Washington, DC 20520) to draw his attention to this important Treaty.
Photo by Ursula Keuper-Bennett
Table of Contents
FARM ANIMALS
Humane Slaughter Act Resolution Introduced
AWI CEREMONY
Robert F. Kennedy, Jr. Presents AWI's Albert Schweitzer Medal to Polish Humane Hog Farm Advocate, Andrzej Lepper
What's at stake in Poland? This is what is at stake
by Tom Garrett
WILDLIFE AND MARINE ANIMALS
Militants and Profiteers Wipe Out Wildlife in the DRC
Killing Continues in Zimbabwe
Caribbean Conservation Treaty Spawned
by Adam M. Roberts
Trendy Talbots Tied to Tasteless Sales
Tsukiji's Fish Market
Consumers Can Save the Chilean Sea Bass
Does BC Stand for "Bear Conservation?"
FREE TRADE
WTO and Sea Turtles Clash Again and Again
From Antigua and Barbuda to Venezuela, Another "Free" Trade Agreement
by Adam M. Roberts
ANIMALS IN LABORATORIES
Agony of Animals at Amgen
Caged Laboratory Animals Drown by the Tens of Thousands
BOOK REVIEWS
The Smile of a Dolphin
Saving Sharks from the Jaws of Greed