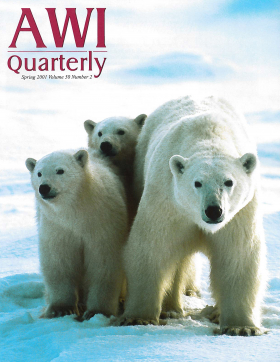 About the Cover
About the Cover
Polar bears are jeopardized by poaching and environmental contaminations such as toxic oil spills. They may suffer irreparably from melting polar ice caps triggered by global warming. Along with numerous other species, they could be in trouble in Alaska specifically if the Bush Administration and some Members of Congress succeed in opening the Arctic National Wildlife Refuge to oil drilling. Grizzly bears are similarly at risk from habitat loss, collapsing salmon stocks, and poaching for their body parts. In British Columbia, Canada, an absence of reliable grizzly population data led the Environmental Investigation Agency to wage a successful campaign against over-hunting there, persuading the Canadian Province's Premier to institute a three-year moratorium on grizzly hunting. (See stories on pages 10-11).
Photographed by Daniel J. Cox/naturalexposures.com
TABLE OF CONTENTS
FARM ANIMALS
Caroline Lucas: "...politicians treat globalization like agod."
AWI Helps Consumers Reject the Products of Pig Factories
by Diane Halverson
Transit Fowl Up
America's Horses Are Ending Up in Europe's Restaurants
Schweitzer Medal Award
Robert F. Kennedy, Jr. to Present Medal to Andrzej Lepper
WILDLIFE AND FORESTS
Mourning Doves Win Important Victories Against Gun Lobby
Wildlife Extinction: Homo Sapiens, Both Witnesses andExecutioners
byWerner Fornos
It's the Population
by LanceOlsen
British Columbia Grizzly Hunt Suspended for the First TimeEver
byMartin Powell
Wildlife Refuge or Oil Industry Haven?
by AdamM. Roberts
The War in the Woods—A Personal Journey
by BenWhite
Courts Release 73-year-old Forest Defender on Time Served
Drug Kingpin Returns to Animal Dealing
Mortality and Mismanagement at Lion Country Safari
MARINE MAMMALS
Dolphins Win in Virginia Beach
Good News: No Movement on Resumption of Commercial Whaling
Manatees Win Long Overdue Protection Through Legal System
BOOK REVIEWS
AWI Offers Educational Brochures
Uncovering Hidden Treasures
by AdamM. Roberts
New Edition of Environmental Enrichment for Caged Rhesus Macaques
Creature Choirs