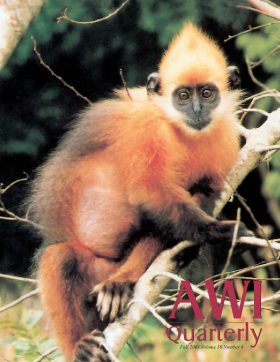 About the Cover
The Cat Ba (Golden headed) Langur is found solely on Cat Ba Island in northern Vietnam, where only about 100 of them remain. Conservation International recently listed the Cat Ba Langur as one of the world's 25 most endangered primates. Tilo Nadler photographed this individual inside the safe haven of the Endangered Primate Rescue Center (EPRC) in Vietnam's Cuc Phuong National Park, where dedicated staff rehabilitate rescued primates. Hunters capture langurs such as these to sell as tourist attractions, to animal traders, and according to the EPRC: "This monkey is sometimes sought for the cooking pot, and its bones and organs are also reputed to have medicinal properties." Find out more about the EPRC at www.primatecenter.org  and find out more about endangered wildlife in Vietnam on pages 10-11.
Photo by Tilo Nadler
Table of Contents
MARINE MAMMALS
The London IWC Meeting
by Ben White
Right Move for Right Whales
Reckless Abandon
by Ben White
We told you it was fraud…Now the Court agrees
by Ben White
Amazing Whiskers
GREAT APES
Operation Orangutan
An Update from Coulston's Killing Fields
Veterans of the Space Program Arrive in Florida
Murder in the Mist Solved?
WILDLIFE AND FORESTS
Vietnam's Vanishing Wildlife
by Adam M. Roberts
Thailand's Lax Tiger Protection Exposed
by Debbie Banks
Anti-Logging Conviction
Storks Love Poland
A Broken Promise Threatens Canada's Bears
by Martin Powell
FARM ANIMALS
Transatlantic Victories for Pigs!
Statement by Senator Byrd on Cruelty to Animals
Senate Passes Humane Slaughter Act Resolution
USDA Brass Hinders Slaughterhouse Inspections
Relief in Store for Sows and Gilts in the European Union
The Carolinas Say No to Hog Factories
12,000 Pigs Die in Utah Hog Factory Inferno
Waterkeeper Alliance Keeps the Pressure on Smithfield
Multi-Million Dollar Settlement for Neighbors of Buckeye Egg Factory Farm
Ned and Daisy are Snatched Back from Death's Door
BOOK REVIEWS
"Speaking Out for Animals"
by Adam M. Roberts
"Cloud: Wild Stallion of the Rockies"