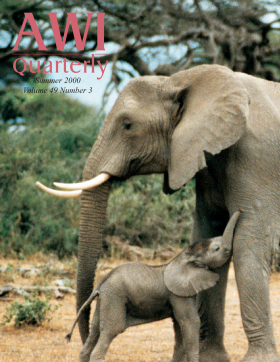 About the Cover
Katy Payne, who initiated the study of infrasound elephant communication, photographed this mother and infant elephant. Katy is profoundly committed to the protection of elephants as individuals, and she suffers with them when they are culled or poached for their ivory. She is conducting her studies now in the Central African Republic. Her book," Silent Thunder — In the Presence of Elephants," which was reviewed in the Spring 2000 AWI Quarterly, concludes sorrowfully. After Katy and five colleagues returned to the U.S., a cull by the Zimbabwe Parks Department killed many of the elephants whose voices she had recorded and grown to know.
TABLE OF CONTENTS
CITES
Political "Spin" and Wildlife Conservation,
by Adam M. Roberts
China 's Torture Chambers,
 by Jonathan Owen 
Wildlife Conservation Heroes,
by Adam M. Roberts
In Remembrance of Nick Carter,
by Rosalind Reeve
"Report: Japan is Top Importer of Endangered Species"
Marine Mammals
Judge Strikes Down Phony "Dolphin-Safe" Label
U.S. Navy Kills Whales In The Bahamas,
by Ben White
Elephant Seals Hot Iron Branded
Wildlife and Environmental destruction
The Environment Comes Second
A Fur Promotion Frenzy
"The Voice of the Turtle is Heard in Our Land,"
By Ben White
World Bank vs. Tigers in India,
by Bittu Sahgal and Daphne Wysham
Mexican Ecological Group Blockades Logging Road to Save Forest 
Animals in Laboratories
A Power Struggle on Capitol Hill Over Chimpanzees' Future,
by Adam M. Roberts
Animal Dealers
Animal Dealers Arrested and Convicted
Canadian Bear Parts Traders Jailed
Another Dealer is Exposed for Illegally
Acquiring Dogs for Experimentation
$10,000 Reward for Stolen Labrador Retriever
Farm Animals
The Farm Bureau Prediction on China
rBGH Reconsidered,
by Chris Bedford
Two AWI Missions to Central Europe,
by Tom Garrett
Join the Fight to End Abuse of Laying Hens
BioMusic
BioMusic: The Music of Nature and the Nature of Music 
Music of the Birds, A Celebration of Bird Song.