Update
AWI welcomes the action taken by the U.S. Department of Agriculture in filing a second complaint against one of the world's largest research antibody suppliers, Santa Cruz Biotechnology, Inc. Read more at http://awionline.org/content/scbt-charged-again-violating-animal-welfare-act.
---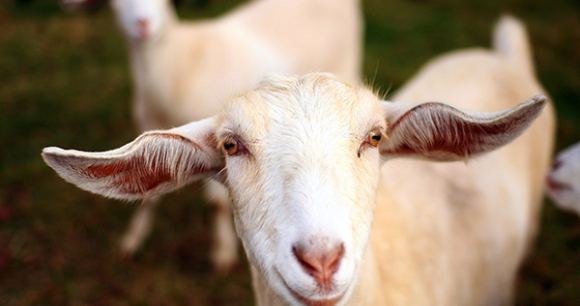 Dear Humanitarian,
"Enforcement delayed is enforcement denied."
So wrote USDA-APHIS Administrator Kevin Shea just last month, publicly claiming that USDA has improved its enforcement of the Animal Welfare Act (AWA)—not giving violators a "free pass," prosecuting the most serious cases, and doing it faster to deter violators.
Yet today marks two years that have passed without USDA taking enforcement action against Santa Cruz Biotechnology, Inc. (SCBT) for one of the most egregious violations of the AWA ever alleged by the Department since the law was passed nearly half a century ago.
On October 31, 2012, the Department alleged that SCBT, one of the world's largest suppliers of research antibodies, evaded government oversight by repeatedly and deliberately denying the existence of an entire site housing over 800 research goats. The veterinary inspector documented that "The existence of the site was denied even when directly asked" during multiple prior inspections, and cited SCBT for interfering with APHIS officials and preventing them from enforcing the AWA. At the previously hidden site, 12 goats were found suffering from significant health concerns, in apparent violation of the AWA.
History on SCBT and USDA:
In 2005, SCBT was fined $4,600 for alleged violations of the AWA spanning a two-year period. The accusations include use of unacceptable forms of euthanasia and the use of more than 1,000 rabbits when the research protocol authorized 80.
A complaint was filed by USDA against SCBT in July 2012 for apparent violations regarding veterinary care and research oversight dating back to July 2007. A hearing before an administrative law judge was scheduled for this past July, but USDA canceled it. Now it's delayed until February 2015.
Meanwhile, USDA has taken no action to hold SCBT accountable for apparently evading inspection in addition to its continued citations by the Department on inspections conducted from mid-2012 to April 2014 (the latter date representing the latest inspection report to be made public).

It is incomprehensible that USDA has failed to file a new complaint against SCBT.
For years, you have helped us press USDA to do something. But we have far exceeded the point of "enough is enough." SCBT cannot be allowed to continue to act with impunity. SCBT's longstanding pattern of violations and the nature of those violations as alleged by USDA should have placed this facility at the top of USDA's list of enforcement priorities. Instead, since mid-2012, USDA has given SCBT the "free pass" cited last month by Administrator Shea.
WHAT YOU CAN DO
Please contact APHIS Administrator Kevin Shea and point out that USDA's unconscionable failure to hold SCBT accountable flies in the face of his own public statement about USDA's improved enforcement of the AWA. Even if you have done so before, please urge him to have USDA file a new complaint seeking revocation of SCBT's dealer license and the largest fine allowable under the AWA.
You can send an email through the Compassion Index by clicking here, where you will find suggested talking points to include in your email. Emails to Administrator Shea can also be sent directly to Kevin.A.Shea@aphis.usda.gov. (Please begin your email with "Dear Administrator Shea.")
Below are some talking points you can use in your letter:
Based on public information, SCBT has been cited time and time again for failing to meet the minimum requirements under the Animal Welfare Act from 2005 through 2014.
On October 31, 2012, USDA documented what appear to be flagrant violations of the Animal Welfare Act. But the Department has failed to take enforcement action not only on these egregious October 31, 2012, citations but also on multiple alleged violations spanning mid-2012 to April 2014.
The denial by multiple SCBT employees of the existence of an entire site housing over 800 goats, even after direct and repeated questioning by USDA inspectors, is alarming, and would appear to indicate a deliberate attempt to evade federal oversight.
USDA must file a new complaint against SCBT and seek revocation of SCBT's license as a dealer, along with the maximum fine allowed under the law.

For additional information, including the inspection reports, as well as national and international media coverage, visit http://awionline.org/SCBT.
Please take action as soon as you can, then pass this Dear Humanitarian eAlert on to family, friends and coworkers and encourage them to submit comments, as well. Administrator Shea needs to hear from the public that SCBT must be held fully accountable by USDA—and USDA must ensure that all regulated entities understand that noncompliance with the AWA will not be tolerated. Your letters will make a difference!
As always, thank you very much for your help!
Sincerely,
Cathy Liss
President
P.S. Follow us on Facebook and Twitter for updates on the action above and other important animal protection news.