Action
None needed at this time.
Update
The 2015 Icelandic whaling season closed with 155 endangered fin whales and 29 minke whales killed.  AWI will continue to monitor the situation for indications that Icelandic whaling will resume in 2016, and if it becomes necessary, we will post additional information on possible actions on our website.
---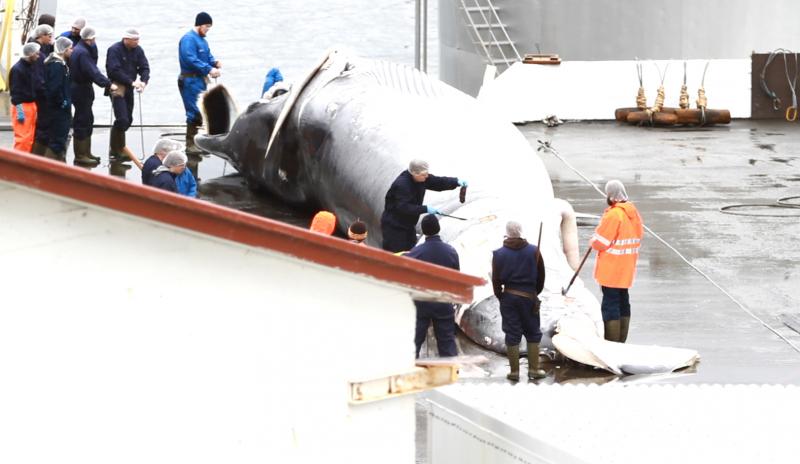 Dear Humanitarian,
Iceland's 2015 whaling season has begin. Already 16 minke whales have been brutally killed, and the hunt for endangered fin whales has just begun. Please join us in asking President Obama to impose trade sanctions on Icelandic whaling companies.
Since Iceland resumed whaling in 2003, its whalers have killed 555 minke whales and 551 endangered fin whales, and exported over 7,200 metric tons of whale products to Japan. The fin whale hunt this summer will produce thousands of additional tons of whale meat and blubber, much of which will end up in freezer storage given the declining demand for whale meat in Japan. This is unacceptable, especially in light of a report released by the Icelandic government that revealed the cruelty inherent to fin whaling, with some whales taking as long as 15 minutes to die after being shot with an exploding grenade harpoon.
A powerful US law called the "Pelly Amendment to the Fisherman's Protective Act" authorizes the president to prohibit the importation of products from countries that are determined to be to diminishing the effectiveness of an international conservation management program. The International Whaling Commission (IWC) and the Convention on International Trade in Endangered Species of Wild Fauna and Flora (CITES) are just such programs.
In April of 2014, President Obama acknowledged that Iceland was undermining both the IWC and CITES, but chose not to impose trade sanctions against Iceland at that time. He instead opted to use diplomatic means to put a stop to Iceland's whaling. Clearly, this effort has failed. It's time for the US to demonstrate the leadership on whaling issues expected by the American people and impose targeted economic sanctions against Icelandic companies involved in whaling.