Action
No action needed at this time.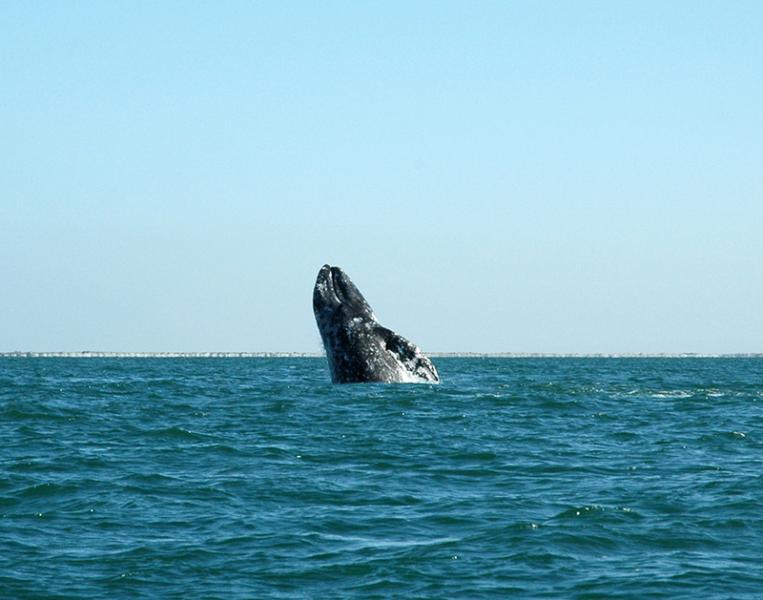 Dear Humanitarian,
In March, the National Marine Fisheries Service (NMFS) initiated its latest effort to permit the Makah Tribe of Washington to hunt gray whales by releasing a Draft Environmental Impact Statement (DEIS) for public review and comment. This is an opportunity for you to express your thoughts on the DEIS and the government's efforts to allow the Makah the kill gray whales.  We need your help to advocate for gray whales and oppose the proposed hunt.
With the exception of a single gray whale killed in 1999 and another whale killed illegally in 2007, the Makah have not hunted whales for nearly 90 years. Consequently, the tribe cannot demonstrate a subsistence or nutritional need for whaling or whale products. Such a need is a requirement to secure approval from the International Whaling Commission to engage in aboriginal subsistence whaling, and should be a prerequisite for NMFS' approval of the hunt. Despite the absence of this need, this is the fourth attempt by NMFS to authorize Makah whaling since 1997. Previous efforts have either been scuttled by court rulings or terminated by the agency.
The proposed hunt could jeopardize two imperiled populations of gray whales: the resident Pacific Coast Feeding Aggregation and the Western North Pacific, which number only 209 and 140 animals, respectively. While the main Eastern North Pacific gray whale population is much larger (nearly 21,000 animals), they and their habitat are subject to threats like climate change, contaminants, ocean noise, ship strikes, and net entanglement throughout their summering, wintering, and incredibly long migratory range (from Alaska to Mexico), and shouldn't be subject to a new threat posed by a hunt.
Furthermore, whaling is inherently cruel since it involves trying to kill (using harpoon and bullets) a large, moving animal from a moving boat on a rolling ocean by (in this case) individuals with little to no whaling experience—a sure recipe for cruelty and suffering.
Issues to raise with the National Marine Fisheries Service
I support Alternative 1, the no-action alternative.
The Makah Tribe does not have a subsistence need for whales and, therefore, shouldn't be allowed to hunt gray whales.
The Makah Tribe cannot demonstrate a continual traditional dependence on whales or whaling and cannot demonstrate either a nutritional or subsistence need for whale meat and other products and, therefore, doesn't qualify for an aboriginal subsistence whaling (ASW) quota from the International Whaling Commission (IWC).
If the United States allows the Makah to whale it will effectively establish a new form of Aboriginal Subsistence Whaling with significant precedential impact to gray and other species of whales if other US Native American tribes or other aboriginal groups around the globe express interests in whaling.
The Makah's cultural need to whale is questionable since there is no evidence that a single whale needs to be killed in order for the Makah to continue to celebrate its historical connection to whales and whaling. Aboriginal people around the world continue to honor their past traditions without actually engaging in the practices which may no longer be socially acceptable, legal, or culturally appropriate.
Any hunt that results in the potential killing of a resident or Western North Pacific gray whale—populations that are both imperiled—cannot be permitted. With only approximately 209 and 140 whales in these populations, respectively, the intentional killing of a single whale is unacceptable and could be disastrous for those populations.
All gray whales, including the Eastern North Pacific migratory gray whales, are subject to a gauntlet of threats in their summer feeding areas and throughout their migratory corridor from Alaska to Mexico. Such threats include climate change, ocean noise, oil and gas exploration and development, pollution, coastal development, contaminants, bycatch, and ship strikes. As some of these threats, like climate change, are completely transforming Arctic ecosystems with unknown short and long-term impacts on gray whales, allowing the intentional killing of any gray whales by the Makah Tribe is biologically reckless.
Whaling is inherently cruel. To quickly kill a moving whale from a moving vessel in a moving ocean is nearly impossible. In this case, given the inexperience of Makah whalers using harpoons or 50 mm shells, there is even less chance that any whale will be quickly or humanely killed.
The National Marine Fisheries Service (NMFS) has failed to consider a reasonable range of alternatives in the Draft Environmental Impact Statement (DEIS). These alternatives include the development of a whale-watching operation and the provision of land, funding, or services that would permit the Makah to humanely reconnect to whales and provide for the social and physical needs of the Makah people.
A nonlethal use alternative such as the development of Makah-operated whale-watching tours would allow the Makah to humanely use and reconnect to the gray whale, bring revenue to the tribe, educate visitors about whales and marine conservation, and introduce visitors to the culture and traditions of the Makah Tribe.
NMFS has failed to adequately evaluate the full range of threats to gray whales in the DEIS, as required by federal law. These threats include climate change impacts to their habitat (particularly in the Arctic); ship strikes; contaminants; bycatch (through net entanglements); pollution (including from oil spills and a proposed massive phosphorous mine in Mexico); and ocean noise (including seismic and sonar), in US, Canadian, and Mexican waters.
NMFS has failed to properly consider in the DEIS the cumulative impact of past, present, and reasonably foreseeable actions undertaken by federal, provincial, or state agencies or individuals throughout the range of the gray whale, including various activities that NMFS has permitted throughout the gray whale's US range.
The Makah Tribe's historic use of whales and the significance of whales to the tribe's culture is important and should be acknowledged, but times have changed, social norms and values have changed, and without a legitimate subsistence need for whale meat or other products, the Makah Tribe's relationship with gray whales should change to one of humane, nonlethal use.