Update
On Wednesday the Senate Commerce, Science and Transportation Committee unanimously approved S. 1406, the Prevent All Soring Tactics (PAST) Act by a voice vote. The bill now moves to the full Senate for consideration. There is still a long way to go before this important bill becomes law so please stay tuned for an upcoming action to contact your senators and representatives in support for the PAST Act.
---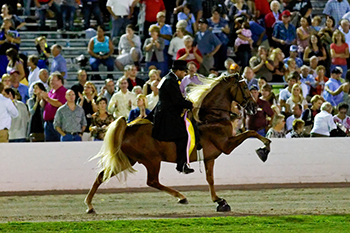 Dear Humanitarian,
On Wednesday, April 9, the Senate Committee on Commerce, Science, and Transportation will hold an important meeting to consider S. 1406, the Prevent All Soring Tactics Act (PAST Act). Opponents are planning to fill the committee room, so we urgently need your help to show senators how important this bill is to the public. If you are able to join AWI at this meeting, please be sure to show up at least an hour early to clear security and get ahead of the crowd. Space will be limited. For details, scroll down.
In 1970, Congress enacted the Horse Protection Act (HPA) to halt the abusive practice of "soring," in which unscrupulous individuals deliberately inflict pain on Tennessee Walking Horses' hooves and legs to exaggerate their high-stepping gait and gain unfair competitive advantage at horse shows. Soring methods include applying caustic chemicals, using plastic wrap and tight bandages to "cook" those chemicals deep into the horse's flesh for days, attaching chains to strike against the sore legs, inserting hard objects such as screws and resins into tender areas of the hooves, paring the soles of the feet down to sensitive tissue, and using salicylic acid or other painful substances to slough off scarred tissue in an attempt to disguise the sored areas. Sored horses often live in constant and extreme pain throughout their lives.
The PAST Act would help crack down on the continued abuse by eliminating loopholes in the existing law that have allowed many in the walking horse industry to skirt the HPA. Specifically, the PAST Act would:
End the failed industry self-policing system. USDA would train, license, and assign inspectors to horse shows instead of having industry-run Horse Industry Organizations (HIOs) choose who conducts inspections. Shows would still have the option of hiring inspectors or declining to do so; show management who opt out would (as in current law) risk greater liability if soring is uncovered at their show.
Strengthen penalties. Violators of the law could receive up to three years' jail time for core offenses now treated only as misdemeanors. Maximum fines would increase to $5,000 per violation. A third violation could result in permanent disqualification from any horse show, exhibition, sale or auction.
Ban the use of devices associated with soring. Chains, weighted shoes, pads, and other devices used on three specified breeds (to intensify pain and conceal foreign objects) would be expressly prohibited.
 
WHAT YOU CAN DO:
Support for the bipartisan PAST Act in the Senate is very strong, but opponents of this legislation intend to show up at the meeting on Wednesday in an attempt to sway legislators. It is important that humanitarians who care about horses and want to stop the brutal soring of gaited horses attend so that senators are aware of their concerns.
If you can, please join AWI on Wednesday, April 9, to observe a 2:30 p.m. committee meeting in 253 Russell Senate Office Building in Washington, D.C. For a map to the Russell Senate Office Building, please click here. Be sure to come at least an hour early to clear security and get in line because space will be limited. If you have any questions, please give us a call at (202) 337-2332.
As always, thank you for your continued support. Remember to share this eAlert with friends, family and coworkers in the area who might also be able to join us in showing support for this legislation.
Sincerely,
Cathy Liss
President
P.S. Follow us on Facebook and Twitter for updates on the action above and other important animal protection news.