Update
Unfortunately, both the House of Delegates and the Senate passed SB 50. AWI wrote to the governor asking him to veto it. As of March 31, 2014, Gov. McAuliffe had not yet signed it.
---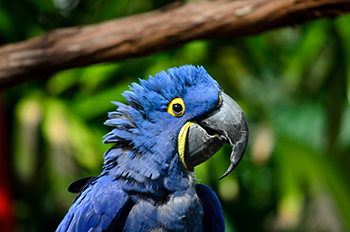 Dear Virginia Humanitarian,
The state General Assembly has a little over a week to go, and there is a bill moving through the legislature that threatens to weaken Virginia's endangered species protections.
The Virginia House of Delegates will soon take up an amended version of a bill that has already passed the Senate. The purpose of this bill, SB 50, is supposed to be to bring state law regarding possession of endangered species into line with federal law. However, AWI feels that a bill of this scope deserves careful input from state and federal wildlife authorities and other constituencies besides the bird owners and breeders who proposed this bill, particularly as it involves both commercial interests and conservation. It could open a Pandora's box of problems and conflicts between state and federal law.
What You Can Do:
It is urgent that you call your state delegate IMMEDIATELY and ask him/her to vote against SB 50. If no one answers, please leave a short, polite message. To find your delegate's phone number in Richmond (don't call the district office unless there is no other number), click here. Enter your address and click "Go"; then scroll down to find your state delegate.
Next, please follow-up with an email sent via the Compassion Index. Once you click though and enter your address, you will find language to include in your email.
Sample Message:
As your constituent, I am writing to request that you vote against SB 50 when it comes to the floor of the House of Delegates. This bill will weaken Virginia law with respect to the private possession of endangered species and could open a Pandora's box of problems. A bill of this scope deserves more input from federal and state wildlife authorities and from others in the state concerned about animal welfare and endangered species conservation. I oppose this bill and ask that you oppose it as well. Thank you for your consideration, and I look forward to hearing back from you on this issue.
Thank you for taking action on behalf of animals.  And be sure to share this eAlert with your friends and family in Virginia.
Sincerely,
Cathy Liss
President
P.S. Follow us on Facebook and Twitter for updates on the action above and other important animal protection news.