Update
The comment period is now closed. The rescheduled decision due date is April 2015.
 
---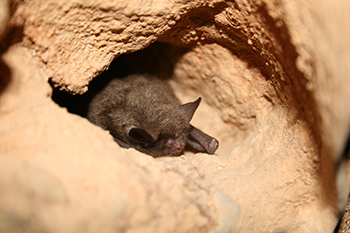 Dear Humanitarian,
The US Fish and Wildlife Service (USFWS) has announced a six-month delay (until April 2015) in its decision whether to list the northern long-eared bat (Myotis septentrionalis) as endangered under the US Endangered Species Act (ESA). Given the extremely precarious status of this species, this is a very troubling development. It is urgent that individuals like you who are concerned about bats contact USFWS in support of immediately adding the northern long-eared bat to the endangered species list.
As you have heard from us over the past several years, white-nose syndrome (WNS) is a fast-spreading fungal disease that has wiped out nearly 6 million bats in the United States and Canada since 2006. The disease has had a particularly devastating impact on the northern long-eared bat. Here is what we know has been happening to this species:
WNS and/or the fungus that causes it are present in 28 of the 39 states of the northern long-eared bat's range.
In the northeastern United States, where WNS first struck in North America, the population of this species has plummeted by more than 90 percent.
Because this is the region where the species historically had been most abundant, declines there have an outsized impact on the entire species' well-being.
There is as of yet no cure for or ability to contain WNS, so it likely will spread to as-yet unaffected parts of the bat's range, where similar declines can be expected.
There are many other threats to northern long-eared bats, including poorly planned wind energy and logging, environmental toxins, and human disturbance of hibernation and maternity roosts. Because northern long-eared bat populations are so diminished, these added threats pose a far greater danger. That is why protecting the species under the ESA is so important.
 
Some members of Congress from Pennsylvania, Ohio and other states; representatives from the timber, oil, and gas industries; and even some state natural resource departments have been pressuring USFWS not to list the northern long-eared bat as endangered, claiming it would impede business. The irony is that the loss of bats is the real threat: As voracious consumers of insects that prey on crops and timber, the economic benefit of healthy bat populations is valued at billions of dollars.
Given the influence of the political forces arrayed against the bats, it is urgent that USFWS hear from individuals who recognize the importance of these mammals to our ecology and our economy and want the agency to rely on the scientific evidence in making its listing decision.

What You Can Do:
Please send your comments to USFWS via the official comments website before the August 29 deadline. Below are some suggested comments you may cut and paste into the box provided on the comments page. Feel free, however, to add other information from this alert or to otherwise personalize your message, as long as your comments do not exceed 5,000 characters total.
Suggested Comments
I support the Fish and Wildlife Service's recommendation to list the northern long-eared bat as endangered. This species has declined by more than 90 percent in its core range. This is due primarily to white-nose syndrome, which has killed millions of bats throughout the country. However, other threats, from energy development to toxins to human disturbance, now pose a heightened danger to this species. Opposition to adding the northern long-eared bat to the endangered species list from politicians and industry groups is very short-sighted, since bats provide many important services to humans and even to some of the very industries that have expressed opposition to the listing. For the sake of both our economy and ecology, I expect USFWS, in making its decision, to rely on the substantial scientific evidence that supports listing the northern long-eared bat as endangered. Merely listing the northern long-eared bat as threatened, as opponents suggest, is an inadequate and inappropriate response. This species is already facing the very real threat of extinction, not simply the "possibility" of becoming endangered. Without the protections afforded by an endangered designation under the Endangered Species Act, northern long-eared bats don't stand a chance. Thank you.
Please also share our "Dear Humanitarian" eAlert with family, friends and co-workers, and encourage them to send a message to USFWS too.
As always, thank you very much for your help!
Sincerely,
Cathy Liss
President
P.S. Follow us on Facebook and Twitter for updates on the action above and other important animal protection news.