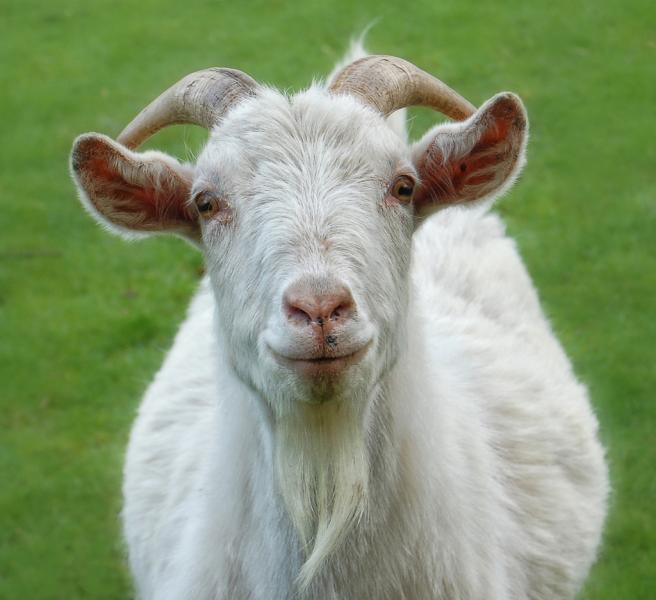 Dear Humanitarian,
The Animal Welfare Institute has just exposed a longstanding pattern of apparent serious violations of the Animal Welfare Act (AWA) at a major supplier of antibody products to the research industry. We now need your help to ensure that the company is punished to the fullest extent of the law and does not merely receive a slap on the wrist.
From 2007 through the end of last year, U.S. Department of Agriculture inspectors documented what appear to be egregious and ongoing violations of the minimum standards of the AWA at Santa Cruz Biotechnology, Inc. (SCBT), which draws blood from goats so antibodies can be sold to researchers. According to the inspection reports, these apparent violations, which include failing to provide veterinary care for sick and injured goats, have caused much needless animal suffering. One report indicates that SCBT willfully hid from USDA inspectors the existence of an additional site housing over 800 goats, and states, "By failing to disclose this information the registrant has interfered with APHIS [USDA's Animal and Plant Health Inspection Service] officials and prevented them from carrying out their responsibility to enforce the Animal Welfare Act."
We have written to Secretary of Agriculture Tom Vilsack seeking revocation of SCBT's license. However, we need your help! USDA is the only federal agency that can take enforcement action against SCBT. The Department has filed a legal complaint and an investigation is ongoing. SCBT, which filed a 100-page rebuttal against the charges, is anxious, no doubt, to resolve the situation without being subject to a public hearing before an Administrative Law Judge—who could mandate huge fines and revocation of the company's license to operate.
Please contact Secretary Vilsack right away to ask that there be no settlement of this case and that SCBT face the stiffest sanctions allowed under the Animal Welfare Act.  We suggest you make the following points in your letter:
Thank the Secretary for the diligence and hard work of the USDA veterinarians who have spent years inspecting SCBT and documenting its many violations.
Note that with every routine inspection, serious violations have been reported.
The denial by SCBT of the existence of an entire facility even after direct questioning by USDA inspectors is alarming and deplorable, and would appear to indicate a deliberate attempt to evade federal oversight.
Ask the Secretary not to settle this case but to levy the highest fine possible and to revoke SCBT's license.
Letters to Secretary Vilsack can be sent to him at: agsec@usda.gov. (Please begin your email with "Dear Mr. Secretary" or "Dear Secretary Vilsack…")
You can read our press release, the inspection reports themselves, our letter to Secretary Vilsack (as well as a separate letter to National Institutes of Health Director Dr. Francis Collins regarding SCBT's role in supplying antibodies to institutions that receive NIH grants), and an article published by the journal Nature at http://awionline.org/SCBT.
Please take action right away and pass this information on to family, friends and coworkers who can help. This case is currently pending at USDA, and SCBT is probably exerting enormous pressure on USDA to settle. Secretary Vilsack must hear from individuals like you who are concerned about the welfare of animals in research and about ensuring that companies that repeatedly violate the AWA are held fully accountable.
Thank you for taking action on behalf of these animals!
Please be sure to share our "Dear Humanitarian" eAlert with family, friends, and co-workers, and encourage them to submit comments, too. As always, thank you very much for your help!
Sincerely,
Cathy Liss
President