Action
None needed at this time.
Update
While no fin whales were killed by Hvalur hf in 2016, the company shipped more than 1,500 metric tons of fin whale products to Japan in September in defiance of the CITES trade ban. In January 2017, Kristján Loftsson stated that he has yet to decide whether Hvalur will resume its whale hunt in 2017. AWI will continue to monitor the situation.
---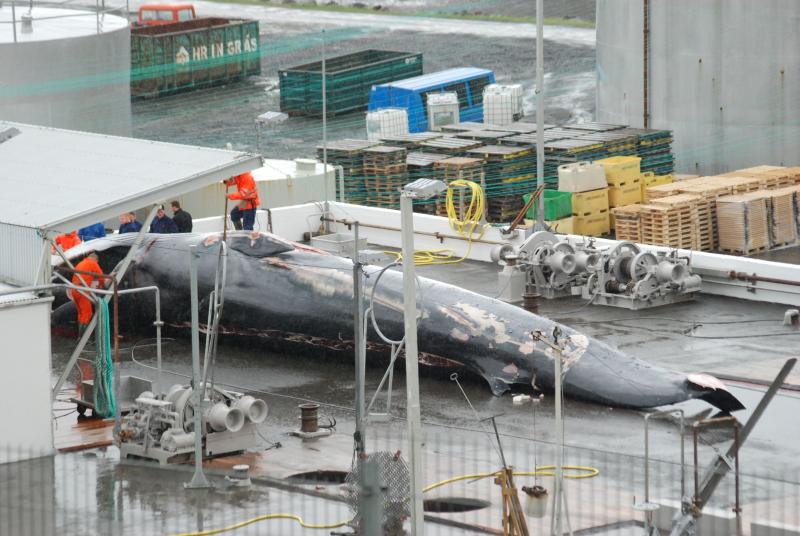 Dear Humanitarian,
Since Iceland resumed commercial whaling in 2006, more than 700 endangered fin whales have been killed, and in excess of 7,200 tons of fin whale meat and blubber  have been shipped to Japan, some of which was used as pet treats. The Icelandic government refuses to report any information to the International Whaling Commission (IWC) that could determine the humaneness of this hunt, and how long it takes these majestic animals to die.
Iceland's commercial whaling and associated trade is increasingly controversial, given that it is conducted under reservation, in defiance of the International Whaling Commission (IWC) moratorium on commercial whaling, and the Convention on International Trade in Endangered Species of Wild Fauna and Flora (CITES) ban on international trade in whale products.
Kristján Loftsson, a multi-millionaire and the executive director of the whaling company Hvalur hf., is the force behind Iceland's fin whaling industry.  A member of the Icelandic delegation to the IWC, he is also chair of the board of HB Grandi, Iceland's largest fishing and seafood export company. HB Grandi is tied to the Hvalur company via a complex web of shareholdings, and is also Hvalur's main source of income.
We need your help to let HB Grandi know that they should not support the killing of fin whales, a protected and iconic species.