Update
The comment period is now closed.  The National Marine Fisheries Service (NMFS) will now take into account all the comments they received on the proposed rule and make appropriate revisions to it before publishing the final rule in the Federal Register. Once the final rule is published, NMFS will announce the rule's effective date.
---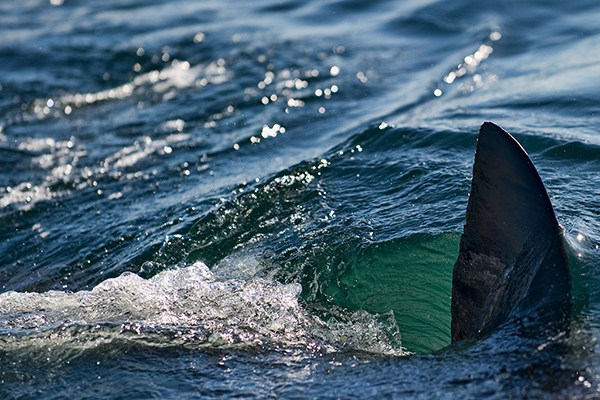 Dear Humanitarian,
Please help the smooth dogfish keep its fins!
On August 7, 2014, NOAA's National Marine Fisheries Service (NMFS) proposed a rule to implement Amendment 9 to the 2006 Consolidated Highly Migratory Species Fishery Management Plan (HMS-FMP). The HMS-FMP is a fisheries management plan developed and implemented by NMFS to manage highly migratory species such as Atlantic tuna, swordfish, and sharks throughout the Atlantic Ocean. Amendment 9 concerns management measures for Atlantic smoothhound shark fisheries and the implementation of the smooth dogfish-specific provisions of the Shark Conservation Act of 2010.
Positive aspects to Amendment 9 include: requiring all Atlantic shark and smoothhhound fishermen to check their nets every 30 minutes to two hours for stranded wildlife such as turtles, and setting an implementation date for previously adopted shark management measures (such as requiring observers on smoothhound fishing vessels).
However, Amendment 9 would also increase the commercial fishing quota for all smoothhound sharks to a maximum annual landings of 1,739.9 metric tons. It would also implement the provision of the Shark Conservation Act (SCA) that exempts fishermen of one particular smoothhound species: the smooth dogfish (a.k.a. dusky smoothhound) from having to land them on a boat with fins attached in US waters.
Thus, NMFS's proposed rule would not only increase the amount of sharks that can be fished, but would essentially create a giant loophole in the SCA's prohibition on shark finning— the inhumane practice of cutting off a shark's fins, often while the shark is still alive, and discarding the body into the ocean to die slowly and painfully of suffocation or be attacked by predators because it is rendered unable to swim. The commercial value of shark fins is high compared to their meat, and every year up to 73 million sharks are killed for their fins, often by finning.
The SCA was intended to be our nation's strongest federal statute to protect sharks. It was not intended to place commercial fishing interests ahead of the need to conserve shark populations. Increasing the smoothhound shark commercial fishing quotas will lead to the overfishing of already depleted stocks. Also, allowing for the landing of smooth dogfish with fins detached will expose other shark species to the cruel practice of finning, since it is notoriously difficult for fishermen and even law enforcement to tell different species of smoothhound sharks apart.
AWI is urging NMFS to implement the SCA in a way that will uphold the SCA's original intent in promoting conservation and fighting environmental waste and cruelty. Please join us in this effort.
What You Can Do:
Please visit the NMFS comment page by the November 14, 2014 deadline and indicate that while you support the conservation-friendly provisions of Amendment 9 such as requiring shark fishermen to check their nets more often, you do not support raising smoothhound shark commercial fishing quotas, nor allowing smooth dogfish to be landed with fins detached.
Suggested talking points include:
Shark finning is an unnecessarily cruel and wasteful practice. Many shark species are destined for extinction unless finning and trade in fins end. This can be achieved by passing laws that require all sharks to be naturally landed with their fins attached (no exceptions). Please adopt Alternative A1 and do not implement Alternative A2 (the smooth dogfish specific exemptions) for finning in the Shark Conservation Act of 2010.
Adopting an exemption for finning for smooth dogfish in the federal SCA would undermine state bans on finning and would further widen loopholes in certain state bans on the trade in shark fin products. For example, shark fin soup or other shark fin products made with fins from smooth dogfish would no longer be illegal in states like New York, where there is a large market for the soup. Aside from confusing the public and retailers, enforcement would become nearly impossible.
Overfishing is a serious problem that is decimating shark species. Please do not raise the annual commercial quota for smoothhound sharks to 1,739.9 metric tons (Alternative B3).
Please require shark fishermen to conduct net checks every 0.5 to 2 hours to look for and remove any sea turtles, marine mammals, or wildlife caught in the net, as well as limiting their soak times to 24 hours. 
Please also share our "Dear Humanitarian" eAlert with family, friends and co-workers, and encourage them to send a message also.
As always, thank you very much for your help!
Sincerely,
Susan Millward
Executive Director
P.S. Follow us on Facebook and Twitter for updates on the action above and other important animal protection news.