Action
None needed at this time.
Update
Unfortunately, as of today, the final rule proposed by the USDA has not been released.  They have until the inauguration to issue rules, but most, if not all, rules proposed by the Obama administration over the last six months will be placed on hold so the incoming Trump administration can review and possibly repeal them.  We will continue to monitor this important proposal. 
---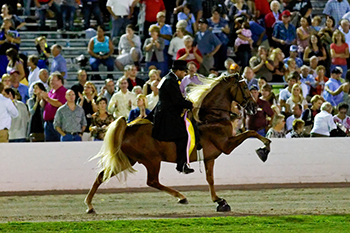 Dear Humanitarian,
Great news out of the US Department of Agriculture! The department has issued a proposed rule that, if finalized, will bring us closer to ending the egregiously inhumane practice of soring Tennessee Walking Horses, spotted saddle horses, racking horses, and other gaited breeds. Please let the USDA know that you support this proposal and want to see it implemented as soon as possible.
The walking horse industry has long been tainted by an element of unscrupulous individuals who torment horses, using caustic chemicals in conjunction with "action devices" (such as chains and beaded rollers) and other painful procedures on their feet and legs simply to create the exaggerated gait known as "The Big Lick." The Big Lick is nothing more than the animal's reaction to intense pain. The Horse Protection Act, passed in 1970, was supposed to put an end to soring. However, soring continues, due to poor enforcement and a reliance on industry self-policing. A 2010 report from the USDA Office of Inspector General confirmed that the current system of enforcing the law is broken and that significant reform—such as improving funding for inspections and dispensing with the system of industry self-policing—is required. In response, hundreds of members of Congress have cosponsored legislation, the Prevent All Soring Tactics (PAST) Act, to enact such reforms. This legislation has been endorsed by animal protection groups, the veterinary community, law enforcement, and humane-minded segments of the walking horse industry. Since Congress has failed to act, a number of bill cosponsors wrote to the USDA asking it to issue a rule that would put some of these reforms in place. To its credit, the USDA heeded this request. The new rule would do the following:
End the failed system of industry self-policing. Under the current system, insiders appointed by horse industry organizations conduct inspections. Not surprisingly, these inspections rarely result in violations being reported. Under the proposed rule, the USDA would train, license, and assign third-party inspectors to horse shows. The new inspectors would be veterinarians and veterinary technicians who would be required to follow APHIS' rules and standards of conduct.  
Ban the use of devices associated with soring. The chains, weighted shoes, pads, and other devices; caustic substances; and other inhumane techniques used to cause pain to the legs and hooves of Tennessee Walking Horses, spotted saddle horses, racking horses, and other gaited breeds would be expressly prohibited at horse shows, exhibitions, sales, and auctions.