Update
US District Court for the Eastern District of North Carolina approved a settlement agreement on November 13, 2014, between AWI, its allies and the North Carolina Wildlife Resources Commission. The settlement outlines significant steps to protect the world's only wild population of red wolves residing in North Carolina, including banning coyote hunting at night throughout the five-county Red Wolf Recovery Area and during the day on public lands. The US Fish and Wildlife Service was scheduled to conclude the program review November 14, and is expected to release information about next steps for the program in early 2015. More on the settlement here.
 
---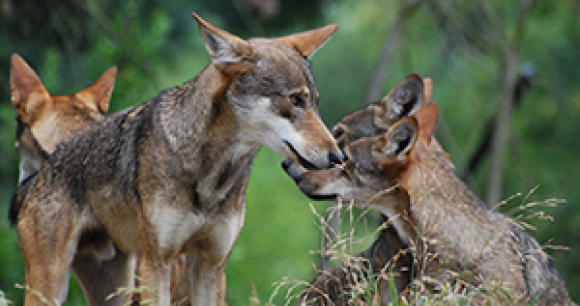 Dear Humanitarian,
On May 13, AWI and co-plaintiffs won an important preliminary legal victory to protect red wolves in North Carolina. A federal court halted all coyote hunting (a huge threat to red wolf survival) in the 1.7 million acres where the only population of wild red wolves live and roam. You can learn more about our efforts to protect red wolves by visiting http://awionline.org/cases/protection-red-wolves.
But the battle is not over. Although we have halted coyote hunting in the designated Red Wolf Recovery Area, we must still fight to ensure that red wolves have a future in North Carolina. The US Fish and Wildlife Service's (USFWS) Red Wolf Recovery Program is currently undergoing a 60-day review, to be completed by October 10. USFWS is now gathering feedback from members of the public on how much they value red wolf recovery, via three methods: 1) email, 2) an online survey and 3) public focus group sessions on September 10 and 11.
The future of the Recovery Program will depend to a significant degree on public input, and the red wolves are depending on YOU to be their voice. Below are ways you can show your support for red wolves and red wolf conservation.
What You Can Do:
1) Please email redwolfreview@fws.gov by September 12 September 26, and let USFWS know you support efforts to recover red wolves in North Carolina.
You can submit an email to the red wolf program review committee at redwolfreview@fws.gov or on the AWI Compassion Index by clicking here, where you will find suggested language.
2) Please fill out this online survey by September 12:  http://jgassett.polldaddy.com/s/red-wolf-restoration-recovery-program. Please answer honestly, knowing that any and all answers that reflect your support of wildlife reintroduction programs, your knowledge of the existence of the red wolf recovery program in North Carolina, public acceptance there, and how successful the program has been, will be most helpful to the wolves.
Some clarification on several of the survey questions that are confusing:
Q.1. Include your state and zip code. It is okay if you are outside of NC.
Q.8. PLEASE NOTE: Question #8 in the survey is flawed! There is no option to say "None of the above" if you think that none of the choices apply. We suggest that you leave the choices ranked as they are and do not change the order. It is critically important to identify this error in Q.11 of the survey.
Q.11. Comments: "Please note that Question #8 in this survey is flawed: There are not any threats associated with red wolf restoration. Please score that as an N/A. This question should be discarded from the survey form and all completed surveys."
3) If possible, please consider attending one of the public focus group sessions being held in NC on September 10 and 11:
The first will be hosted in Swan Quarter, North Carolina, from 7:00 p.m. to 9:00 p.m. on Wednesday, September 10, in the Mattamuskeet High School Cafeteria located at 20392 US Highway 264.
The second will be held in Columbia, North Carolina, from 7:00 p.m. to 9:00 p.m. on Thursday, September 11, in the Columbia High School's Auditorium, located at 902 Main Street.

We expect that these focus groups will be targeted by highly vocal people opposed to keeping red wolves in North Carolina, so please speak up and voice your support for the red wolf recovery program.
Also, be sure to share our "Dear Humanitarian" eAlert with family, friends and co-workers, and encourage them to submit comments, fill out the survey, and attend a public focus group session, if they can. As always, thank you very much for your dedication to protecting animals!
Sincerely,
Cathy Liss
President
P.S. Follow us on Facebook and Twitter for updates on the action above and other important animal protection news.