Update
ESA protections began immediately for southern white rhinos under this interim final rule. Fish and Wildlife Service is now in the process of deciding on the final rule based on comments received by October 11, 2013.
---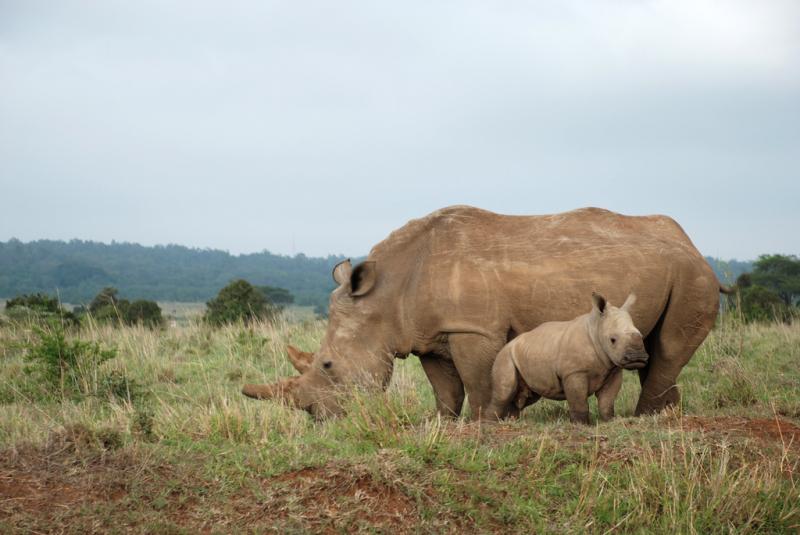 Dear Humanitarian,
On September 10, the U.S. Fish and Wildlife Service (USFWS) announced that it will take immediate action to list the southern white rhinoceros (Ceratotherium simum simum) as threatened under the Endangered Species Act (ESA). In doing so, USFWS seeks to close a loophole that has contributed to rampant poaching and illegal trafficking.
Rhino poaching has reached unprecedented levels.  Four of the five rhino species surviving in the wild today (black, Sumatran, Indian, and Javan), as well as the northern white rhinoceros subspecies (Ceratotherium simum cottoni), are fully protected as endangered under the ESA. But differentiating between horns and horn products made from the southern white rhinoceros and the other species/subspecies is extremely difficult. This similarity has allowed traffickers to pass off the horns of endangered rhinos as "southern white rhino horn" to evade restrictions on sale and transport.
The proposed rule seeks to protect southern white rhinoceros as a threatened species under the ESA's "similarity of appearance" provisions and curb the increasing demand for rhino horn in general. While the southern white rhinoceros has been subject to import and export restrictions under the Convention on International Trade in Endangered Species of Wild Fauna and Flora (CITES), this new action prohibits the sale or offer for sale in interstate commerce of this species and its parts and products, consistent with all other rhino species.
What You Can Do:
USFWS will accept public comment for 30 days on this interim final rule, even though ESA protections will begin immediately. Please visit the comment page by the October 11, 2013, deadline and indicate your support for the rule.
Below, we have included a couple of suggested talking points to include in your comments. Please note that on the comment page, the only required field is the comment box itself, but we do suggest that you personalize your message and include your full name, city and state so that the comments can have greater impact. The suggested talking points are:  
Thank you for your prompt action regarding the southern white rhinoceros. Poaching and the illegal trade in rhino horn pose serious threats to all rhino species worldwide. Trends in poaching over the last five years have demonstrated that current regulatory mechanisms and conservation efforts are inadequate to respond to the growing market for rhino horn products.
Currently, the southern white rhinoceros is the only rhino species or subspecies not listed under the Endangered Species Act (ESA).  Listing this subspecies based on similarity of appearance will help conserve all rhinos worldwide by aiding international law enforcement efforts to fight poaching and crack down on trafficking in rhino horn.
 
Please also share our "Dear Humanitarian" eAlert with family, friends and co-workers, and encourage them to send a message to USFWS too.
As always, thank you very much for your help!
Sincerely,
Cathy Liss
President
P.S. Read about our work to address international trade in wildlife at http://awionline.org/content/commercial-trade and follow us on Facebook and Twitter for updates on the action above and other important animal protection news.