Action
None needed at this time.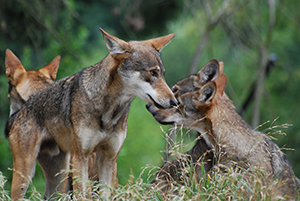 Dear Humanitarian,
The only population of red wolves in the wild needs your help—now more than ever. Over the last two years, the US Fish and Wildlife Service has halted key conservation activities and authorized private landowners to kill red wolves on their land. The agency has also been capturing and relocating red wolves throughout the five-county recovery area in North Carolina, separating them from their families and packs, and negatively impacting recovery by doing so.
It appears that the USFWS is actively undermining red wolves in order to satisfy a few very vocal opponents of the red wolf recovery program. In doing so, the wild population appears to have dropped precipitously, from around 110 wolves just a couple of years ago to fewer than 50 now. AWI and its allies are fighting the USFWS in court over this abdication of its responsibility, but we still need your help. It is crucial that Americans speak up this Fourth of July holiday and let the agency know that they support red wolf recovery in the wild, and won't stand by while America's rarest wolf population dwindles down to nothing.