Update
Rather than returning to the IWC to seek approval for a new whaling quota, either by emergency postal vote or a special IWC meeting, Greenland self-allocated a whaling quota for 2013—a violation of the IWC's treaty. Fearing the implications of becoming a pirate whaling nation, Denmark threatened to leave the IWC if the situation was not resolved, although it suspended its withdrawal on January 1, 2014, apparently with the intention to present a new proposal to IWC65 in September 2014.
 
---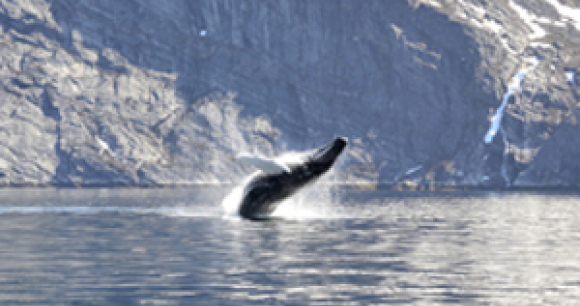 Dear Humanitarian,
Although the International Whaling Commission (IWC) has banned commercial whaling since 1986, it permits certain "aboriginal" (indigenous) groups to hunt large whales for their nutritional subsistence and cultural use. Among these groups are the Inuit of Greenland who have hunted fin, minke, humpback and bowhead whales for decades under an IWC-approved Aboriginal Subsistence Whaling (ASW) quota.
At the last IWC meeting in June 2012, Denmark—on behalf of its territory, Greenland—sought an increase in the existing ASW quota. In response, many countries raised concerns about the extensive commercial use of whale meat intended for subsistence purposes in Greenland, including the widespread availability of whale meat in Greenland's tourist restaurants and hotels, and Greenland's poor compliance with IWC regulations. A study conducted earlier in the year by AWI and Whale and Dolphin Conservation revealed that whale meat is sold in 77% of tourist restaurants in Greenland.
Despite these concerns, Denmark/Greenland refused to compromise by reducing the number of whales sought. Consequently, Greenland's entire request was voted down and, because its previous quota expired in 2012, it has no quota to whale in 2013.
Rather than returning to the IWC to seek approval for a new quota, either by emergency postal vote or a special IWC meeting, Greenland has announced that it plans to self-allocate a whaling quota for 2013 and will take more humpback and fin whales this year than under its previous quota.
A legal analysis commissioned recently by AWI confirms that self-allocating an ASW quota in this way clearly violates the IWC's treaty; the only way Greenland can legally hunt large whales in 2013 is by securing the IWC's approval.
Recent news articles out of Greenland and Denmark indicate that the Danish Ministry of Foreign Affairs is not happy with Greenland's decision to self-allocate quotas. We believe Greenland's decision may not be final and that there is still time to put pressure on Denmark and Greenland to resolve this. You can help!
Send an email to Greenland's Minister for Fisheries, Hunting and Agriculture, Ane Hansen (apnn@nanoq.gl), and copy Denmark's Minister of Foreign Affairs, Villy Søvndal (um@um.dk). Please let them know that allowing Greenland to self-allocate quotas violates IWC rules and would make Denmark a pirate whaling nation, damaging both Greenland and Denmark's international reputations. Please urge Greenland to arrange for Denmark to seek a postal vote by the IWC if it wishes to restore the quota.
Please be sure to share our "Dear Humanitarian" eAlert with family, friends, and co-workers, and encourage them to submit comments, too. As always, thank you very much for your help!
Sincerely,
Susan Millward
Executive Director
P.S. Follow us on Facebook and Twitter for updates on the action above and other important animal protection news.