Update
May 17, 2013—AWI is pleased to report that HB 83 passed out of the Illinois Senate 43-9 on Wednesday, May 15! HB 83, a bill that would put restrictions on the tethering of dogs, has now passed both chambers of the Illinois General Assembly resoundingly. Two weeks ago, HB 83 was approved by the Senate Executive Committee by a unanimous 15-0 vote. The bill will soon be sent to Governor Pat Quinn, who is expected to sign it into law.
 
---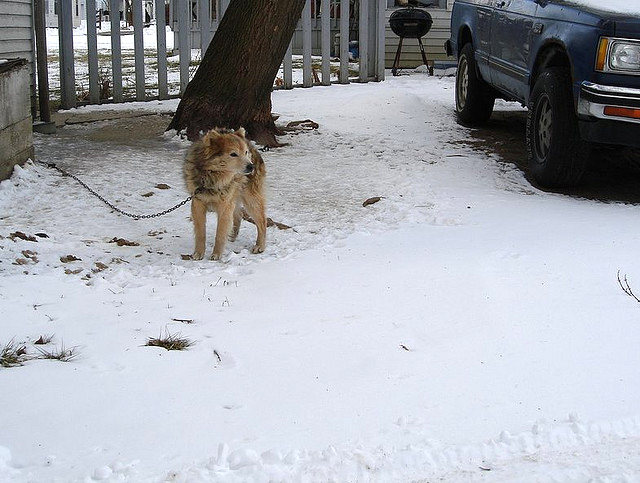 Dear Humanitarian,
In January, Illinois State Representative Daniel J. Burke introduced HB 83, a bill that would address many of the inhumane practices associated with tethering. This bill would not establish an outright ban on tethering—it would only limit certain inhumane practices that increase harm to people and pets. Exemptions would be allowed for brief or temporary periods of tethering for work and sport activities.
The bill provides that dogs must have adequate shelter and protection from the weather, in addition to a proper harness or collar. The bill specifies that tethers can no longer consist of tow or log chains, and must be at least 10 feet in length in order to provide at least a minimal amount of area for exercise, as well as space for the dog to eat and eliminate in different areas. By supporting HB 83, you can help ensure safer communities for people, along with safer and more humane conditions for dogs.
The text of HB 83 is available here.
What You Can Do:
HB 83 was voted out of the Executive Committee 11-0 in the House and will soon go to the full House for a vote. Now is the time to make a polite call to your Representative and urge him/her to support HB 83! To find your Illinois legislator, please click here.
The following is a suggestion for what you can say when you call:
As a constituent, I am calling to ask you to support HB 83. This bill would amend the Humane Care for Animals Act so as to ensure that certain humane requirements are met in order for an owner to lawfully tether a dog outdoors. HB 83 provides reasonable guidelines for tethering that addresses both animal cruelty and general public safety. HB 83 also provides exemptions for tethering during certain events, such as work and sport activities.

To enhance public safety and improve conditions for dogs on chains, I hope that you will support the passage of HB 83.Thank you for your consideration of this important matter.
After making your phone call, please take the additional step of sending an email message to your Representative.
Also, please be sure to share our "Dear Humanitarian" eAlert with family, friends and co-workers, and encourage them to send a message also. Time is of the essence, so don't delay!
As always, thank you very much for helping animals!
Sincerely,
Cathy Liss
President
P.S. Follow us on Facebook and Twitter for updates on the action above and other important animal protection news.