Action
No action needed at this time.
Update
October 9, 2015 Update: AWI welcomes yesterday's decision by California Coastal Commissioners to make its permission for SeaWorld San Diego's Blue World expansion project conditional, with no breeding and no transfers in or out of the park, consistent with federal law http://bit.ly/1LtKWit. AWI's Dr. Naomi Rose testified at the hearing in Long Beach after meeting with commissioners, including Vice Chair Dayna Bochco, who insisted on having the conditions included as part of the approval. The vote for approval with conditions was unanimous. AWI thanks Commissioner Bochco and AWI supporters who wrote to the Commission, attended the hearing and/or provided testimony.
---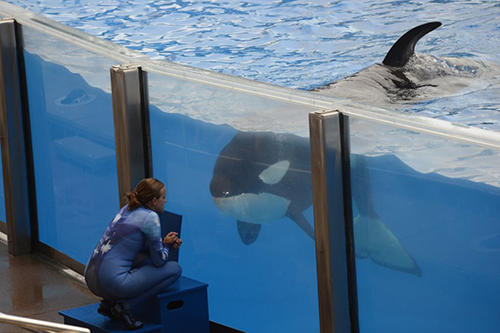 Dear California Humanitarian,
SeaWorld Entertainment announced the "Blue World" Project last year. The project proposes to invest $100 million per park (for a total of $300 million) for the construction of a larger tank next to each park's Shamu Stadium, to display the company's orcas when they are not performing. Superficially, this appears to be an effort to improve the welfare of these large ocean predators by giving them more space, and certainly more space might improve the overall well-being of the whales. However, even a tank up to 50 feet deep and covering over an acre of horizontal space is not big enough for a species that can easily travel 100 miles in a day.
In fact, according to the architectural plans for the new enclosure, the orcas at SeaWorld San Diego will not have free access to it. The new enclosure will be connected to the existing Shamu Stadium by a narrow channel with gates at either end, which will be open and closed as determined by training staff. The orcas will not be able to choose which enclosure they wish to be in.
Unfortunately, the real purpose of the Blue World Project may be to ensure the future of captive orca display. This kind of capital investment will commit many parties, including the city of San Diego (the first park location for the project) and the SeaWorld Entertainment board of directors, to maintaining captive orcas in perpetuity. Once these tanks are built, it will be much more difficult to end the captive display of orcas, as legislative efforts such as California's AB2140 seek to do. In addition, SeaWorld has made it clear that it intends to breed more orcas to fill the larger space, negating any benefits the bigger tank will offer the 11 orcas currently held in San Diego.
But the first administrative hurdle SeaWorld San Diego must clear is acquiring a permit from the California Coastal Commission (CCC). As noted on its website, the mission of the CCC is to "protect, conserve, restore, and enhance environmental and human-based resources of the California coast and ocean for environmentally sustainable and prudent use by current and future generations." It was established by state law in 1972 and issues permits for activities that will have an impact on California's coastal zone, such as the Blue World Project.