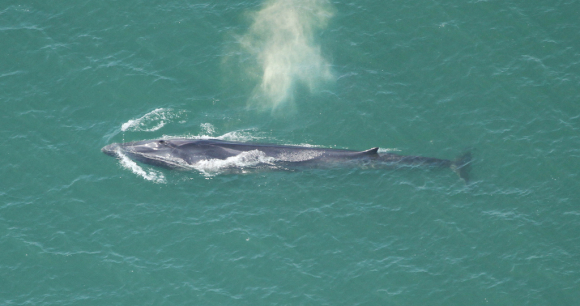 Tell Iceland's President that Commercial Whaling Must End
Dear Humanitarian,
The Animal Welfare Institute and other U.S. animal protection and conservation groups have organized a rally in Portland, Maine, on May 31, 2013, to protest Iceland's expanding commercial whaling program. This rally is timed to coincide with Maine's International Trade Day, an event which will feature the president of Iceland, Ólafur Ragnar Grímsson, as keynote speaker.
Since Iceland resumed whaling in 2003 in defiance of an international ban on commercial whaling, its whalers have killed 496 minke whales and 280 endangered fin whales and exported over 2,800 metric tons of whale products to Japan. Although Iceland did not hunt fin whales in 2011 and 2012, Kristján Loftsson, head of the Hvalur whaling company and Chairman of the Board of HB Grandi, one of Iceland's largest fishing companies, has announced plans to kill as many as 184 fin whales this summer, starting in early June. The hunt will produce thousands of tons of whale meat and blubber. At just over 320,000, the population of Iceland is smaller than that of Greater Portland, and cannot possibly consume this quantity of meat. Most will be shipped to Japan, where AWI recently found it on sale as dog treats.
The Event
Maine's International Trade Day is described as "Northern New England's premier annual international-focused business event bringing together more than 250 leading professionals from Maine, New England, and Canada to discuss new developments, current challenges, and future opportunities in international trade."
President Ólafur Ragnar Grímsson of Iceland is giving the keynote address at a noon luncheon at the event. He is then expected to spend the afternoon with local business leaders and conference participants touring the recently renovated Port of Portland before he attends a 4 p.m. reception at the Portland facilities of Eimskip, Iceland's oldest shipping company. Eimskip recently made Portland its only port of call in the U.S., with 5,000 containers expected to pass through Portland annually. Since it began shipping to Portland, Eimskip has already begun delivering fish exported to the U.S. by HB Grandi, as well as other products from companies linked to Kristjan Loftsson and his Hvalur whaling company.
Logistics
When: 3:00 to 6:00 p.m. with setup starting at 1 p.m. We encourage people to arrive by 2:00 p.m.
Where: Harbor View Memorial Park, Portland, ME. We will be congregating at the eastern end of the park on Commercial Street, across from the International Marine Terminal. 
Directions: See the following map. When using Google or Mapquest, insert your location to get directions to 468 Commercial St. Portland, ME.
Parking: See https://www.portlandmaine.gov/351/Parking.
Please wear shoes and clothes appropriate for the weather and some walking.
There are a few restaurants near the rally venue, but you might prefer to bring food and drinks with you.
If you are interested, we may be able to help cover your costs to get to Portland for the day of the rally. Please contact us with information on your location and number in your party.
We will have a banner that reads "We don't buy from whalers." Please consider bringing a banner or sign with this slogan, or another (inoffensive) anti-whaling message (such as "Save the Whales," "Whaling is Cruel," "Whales Alive," "Iceland: Stop Whaling," "No More Whaling in Iceland," "Don't Trade in Whales").
Bullhorns and other noise-makers are not permitted.

If you have any questions about the event, please contact DJ Schubert at dj@awionline.org.
 
Please be sure to share our "Dear Humanitarian" eAlert with family, friends and co-workers, and encourage them to join, too.
As always, thank you very much for your help!
Sincerely,
Susan Millward
Executive Director
P.S. Follow us on Facebook and Twitter for updates on the action above and other important animal protection news.