Action
None needed at this time.
Update
The comment period is now closed. We will provide an update on any future steps NMFS takes on this issue.
---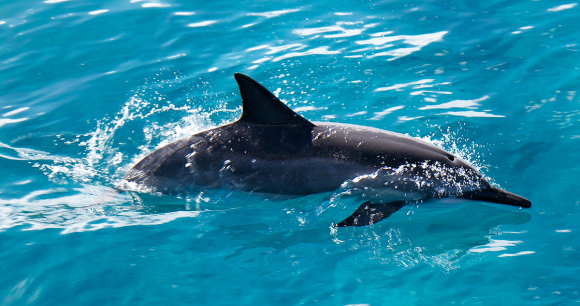 Dear Humanitarian,
The agency has reopened the comment period for 15 days – make sure they know how you feel by December 1, 2016.
After many years of discussion, research, and evaluation, the US National Marine Fisheries Service (NMFS), the agency responsible for implementing the Marine Mammal Protection Act (MMPA), has finally published a proposal to protect Hawaiian spinner dolphins from harassment by vessels and swimmers. These beautiful, social dolphins forage at night and rest during the day in protected bays and coves of the Hawaiian Islands. These "essential daytime habitats" allow them to rest and recuperate from their energetic nighttime foraging activities offshore, while keeping them safe from predators such as sharks.
The reliability with which these dolphins are found in these inshore areas has made them a target of a thriving dolphin-watching and swim-with-dolphin tourism industry. The dolphins are approachable and, because they are resting, easy for swimmers to keep up with. But that is the problem—the dolphins are basically sleeping and the many recreational boats, commercial wildlife viewing operators, and swimmers are invading their bedroom. It is not a simple matter of the dolphins being able to move away—they cannot, without risking shark attacks or other hazards outside of these protected areas. It is well past time the government brought the protective power of the MMPA to bear on this situation to protect these dolphins from harassment when they are at their most vulnerable.
The proposal is now open for public comment. Unfortunately it does not actually achieve the goal of protecting the dolphins from harassment. It would establish a 50-yard approach distance for vessels and swimmers, which would effectively end swimming with them, as 50 yards is beyond underwater visual range for swimmers. However, research shows that the dolphins are well aware of swimmers and vessels as far away as 150 yards and are less likely to be resting whenever swimmers are within this range, making the proposal ineffective as a means to allow dolphins to rest. This approach distance would also be difficult to enforce, since it is difficult for swimmers and boaters without sophisticated equipment to judge a 50-yard distance.
Several studies indicate that the only effective measure to protect spinner dolphins would be the closure of certain areas at certain times to all dolphin-watching and swimming with dolphins. This must include all vessels, not just commercial operators, as private recreational boaters are among the most aggressive in getting very close to the dolphins. The dolphins are so reliable in their behavior patterns and preference for the same safe areas to rest that closing certain areas between certain times of day would be extremely effective at protecting them from harassment. Exceptions to the closures, for vessels merely transiting the area, emergencies, and so on, would be necessary. NMFS is actually considering just such a time-area closure, but is not proposing it at this time, despite the strong science supporting it.