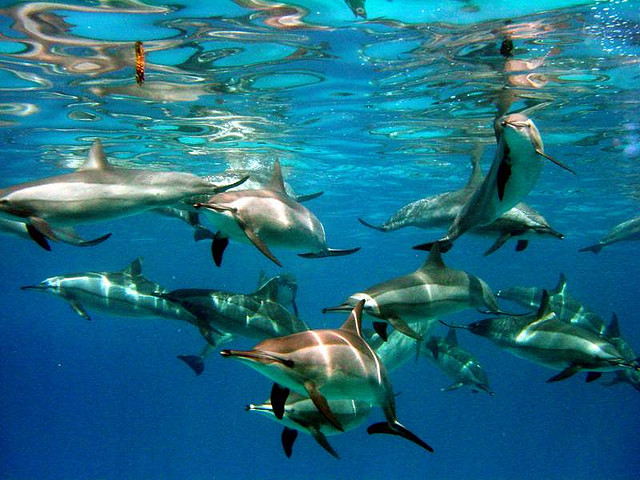 Dear Humanitarians,
AWI is partnering with Ted Danson, Oceana and other groups calling on the Obama administration to halt oil and gas explorations along the U.S. East Coast. Please read Mr. Danson's message below and join us in petitioning the White House.
If we don't act now, thousands of whales and dolphins will soon be subjected to loud, deafening blasts in the Atlantic Ocean. I'm petitioning President Obama to save them—will you join me?
The Obama administration is considering allowing the use of deadly seismic airgun blasts to search for oil and gas under the ocean floor, the first harmful step toward expanding dangerous offshore drilling to the Atlantic. The U.S. Department of the Interior estimates that 138,500 whales and dolphins will be injured and possibly killed along the East Coast if these tests are allowed to go through. These blasts are 100,000 times louder than a jet engine, and they will happen every 10 seconds for months.
Will you help me stop this? Call on President Obama to protect East Coast economies and marine ecosystems by rejecting this proposal for seismic airgun testing for oil and gas in the Atlantic.
The White House has committed to respond to every petition that gets more than 100,000 signatures in 30 days. I know that with your help, we can reach that goal. If this is your first time signing a White House petition, here's what you need to do (it takes about two minutes):
Click the "Create an Account" button on my petition's page.
Fill out the form, and then wait for a confirmation email.
Click or paste the link in your email to get back to the site, and then return to my petition.
Click the green "Sign This Petition" button.
Now send the petition to all of your friends and share on Facebook and Twitter.
These seismic airgun blasts will injure some of the last surviving North Atlantic right whales. Seismic airguns also scare away fish and could pose a risk to East Coast fisheries, which are home to 200,000 jobs and nearly $12 billion in economic activity each year. We need to convince the Obama administration not to do this.
Please sign my White House petition to President Obama, calling on him to reject seismic airgun testing to search for oil and gas in the Atlantic. We only have 30 days to get 100,000 signatures, so sign today and then forward the link to your friends and family. Tell them I asked you to.
The worst part is that seismic airgun testing, while awful in and of itself, is the first step toward expanding offshore drilling to the East Coast. Remember the Gulf of Mexico oil disaster? Let's not repeat history.
We don't need to turn the Atlantic into a blast zone. There are clean energy alternatives to drilling, such as offshore wind. Our oceans can be put to a positive, renewable use to produce energy. For so many reasons – threats like airguns, oil spills, climate change, and ocean acidification to name a few – we should be phasing out offshore drilling, not expanding it to areas that have been protected for decades.
Today our oceans need your help more than ever. Please sign my petition to President Obama right now, and then forward this email to your friends and family. This one simple action could make the difference for thousands of dolphins and whales, and for all the people and animals living on our Atlantic coast.

For the oceans,
Ted Danson
Please be sure to share our "Dear Humanitarian" eAlert with family, friends and co-workers, and encourage them to sign this petition, too.
As always, thank you very much for your help!
Sincerely,
Susan Millward
Executive Director
P.S. Follow us on Facebook and Twitter for updates on the action above and other important animal protection news.