Action
None needed at this time.
Update
We anticipate the New York City Council to consider the issue again later in 2017.
---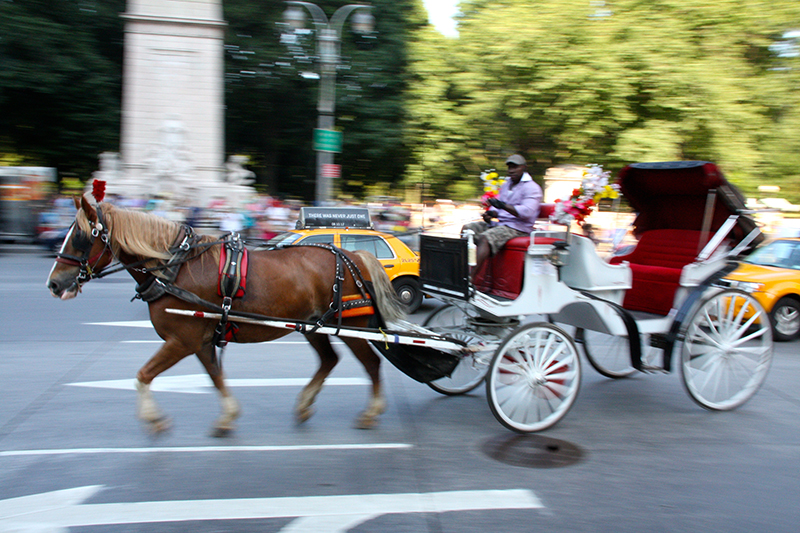 Dear Humanitarian,
It is another cold winter in New York City, punctuated by bouts of bone-chilling rain and snow. As you walk through the streets, bundled tightly against the cold, take a moment to consider the carriage horses. They will be walking for up to nine hours each day through slushy, frozen streets, breathing heavily polluted air, while pulling a half-ton carriage—as a tourist attraction.
New York City Mayor Bill de Blasio is trying to fulfill a campaign promise to ban horse-drawn carriages as tourist attractions. On December 8, 2014, legislation was introduced into New York City Council (File#: Int 0573-2014) to end this practice by May 31, 2016. The legislation would ensure the carriage horses would not be sold for slaughter and would provide retraining for the current carriage drivers and those employed at the stables.
AWI supports a ban on horse-drawn carriages used as tourist attractions in urban settings. The constant exposure to traffic, noise, and pollution; the long hours of standing and walking on hard surfaces; the hard labor under sometimes extreme weather conditions; and lack of pasture access are inhumane and inconsistent with an owner's responsibility to provide high-quality, long-term care for the horses.
What You Can Do:
The New York City Council needs to hear from you. Please let them know that you support ending the use of horse-drawn carriages in New York City as tourist attractions. While this bill is being considered by the New York City Council, it is not a local issue. It pertains to the welfare of horses used by an industry aimed at visitors to New York City. The Council, therefore, needs to hear not just from New York City residents, but from anyone who has traveled to the city or is planning a trip there in the future.