Update
Update: On February 11, 2014, the US announced a ban on the commercial trade of elephant ivory, which we hope will enhance efforts to protect African elephants by prohibiting the import, export, or resale of elephant ivory within the US. Although this is a step in the right direction, the ban still allows some ivory to be exported and imported under limited circumstances: "bona fide antiques" (more than 100 years old) can still be commercially exported and sold across state lines; African elephant sport-hunted trophies can still be imported (in limited quantity); and ivory from certain other species (e.g., walrus, extinct mammoths) can still be both exported and imported. AWI will continue to advocate for greater protections for elephants, including a permanent ban on the ivory trade.
---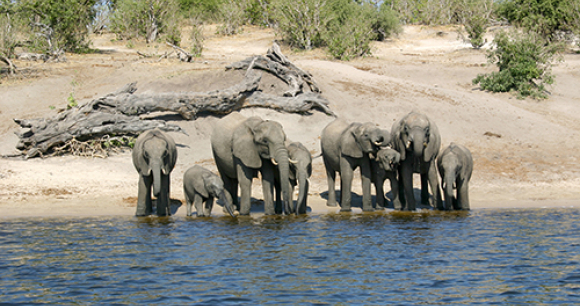 Dear Humanitarian,
Important news: On November 14, nearly six tons of elephant ivory—seized by federal agents and wildlife inspectors for violations of U.S. wildlife laws—was crushed by the U.S. Fish and Wildlife Service (USFWS) at the Rocky Mountain Arsenal National Wildlife Refuge in Denver, Colorado. When Secretary of the Interior Sally Jewell announced the plan to destroy the ivory, she stated that "Rising demand for ivory is fueling a renewed and horrific slaughter of elephants in Africa, threatening remaining populations across the continent."
By destroying its store of seized ivory, USFWS sent a strong signal to the rest of the world that we need to get serious now about saving elephants and ending the demand that is fueling ivory trafficking. Now we need Congress to take further action.
The fact is the United States is the world's second largest market for wildlife products, including elephant ivory. Each piece of ivory, every tusk, trinket and souvenir destroyed in Denver was seized in the United States. This highlights the unwitting impact that many Americans have on the slaughter of wild elephants across Asia and Africa when they buy ivory.
Countries that are home to elephants need our help to fight the organized crime syndicates behind this trade and protect their elephants from heavily-armed poachers. The United States has laws governing the sale and possession of ivory, but loopholes make these laws difficult to enforce, particularly once ivory is smuggled past our borders. We must do all we can to halt the ivory trade that is decimating wild elephant populations, taking the lives of rangers on the front line, destabilizing local communities and national economies, and feeding political instability.
With roughly 30,000 wild elephants being poached every year, there is no time to waste. AWI and a coalition of wildlife conservation and animal welfare organizations are calling on the United States to strengthen its support for anti-poaching and anti-trafficking programs abroad. We are also asking the U.S. government to help crush the demand for ivory by putting in place a moratorium on the selling and buying of all ivory here at home.
WHAT YOU CAN DO:
We have a chance to make a real difference for these amazing animals, but we need your help to spur our elected officials to action. Tell your member of Congress to support anti-poaching and anti-trafficking programs and to declare a moratorium on ivory sales in the U.S. You can send an email through the Compassion Index by clicking here, where you will find suggested talking points to include in your email.
Please be sure to share our "Dear Humanitarian" eAlert with family, friends and co-workers, and encourage them to write, too. We can only improve the lives of animals with your help!
As always, thank you very much for pitching in!
Sincerely,
Cathy Liss
President
P.S. Follow us on Facebook and Twitter for updates on the action above and other important animal protection news.