Action
None needed at this time.
Update
Western Sea Tech has changed suppliers. Legacy Seafoods, the Western Sea Tech supplier that was named in the alert, has ceased its ship-borne imports of Icelandic seafood from HB Grandi, the Icelandic whaling-linked seafood company.
---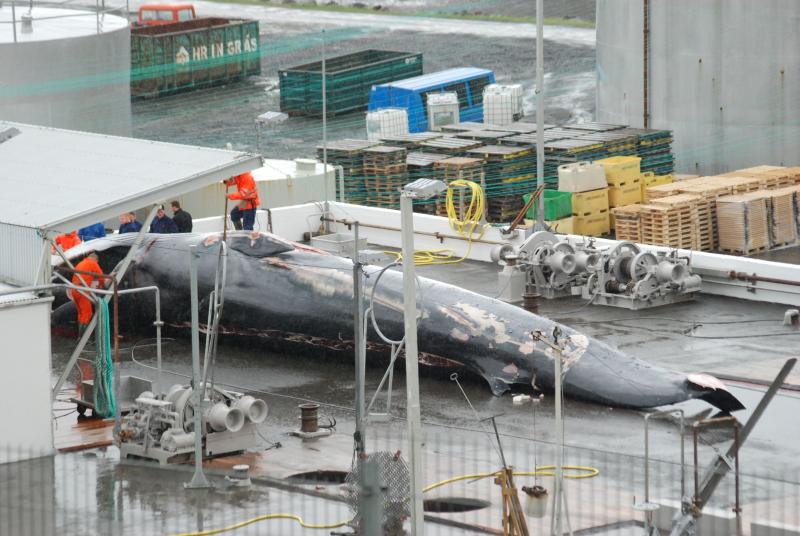 Dear Humanitarian,
Since Iceland resumed commercial whaling in 2006, more than 551 endangered fin whales have been killed, and in excess of 5,400 tons of fin whale meat and blubber have been shipped to Japan, some of which was used to manufacture pet treats.
A recent report released by the Icelandic government reveals the cruelty inherent to fin whaling, with some whales taking as long as 15 minutes to die after being shot with an exploding grenade harpoon. A veterinarian studying the hunt stated that "massive lacerations, bleedings and cuts, usually occur at the detonation site, and injuries and bleeding are often found in the brain, heart, lungs and other vital organs."
In addition to such cruelty, Iceland's commercial whaling and associated trade is increasingly controversial because it is conducted under reservation, in defiance of the International Whaling Commission's (IWC) moratorium on commercial whaling and the Convention on International Trade in Endangered Species of Wild Fauna and Flora (CITES) ban on international trade in whale products.
Kristján Loftsson, CEO and a leading shareholder of Iceland's whaling company Hvalur hf, is responsible for Iceland's fin whaling industry. A member of the Icelandic delegation to the IWC, he is also chair of the board of HB Grandi, Iceland's largest fishing and seafood export company. HB Grandi has allowed fin whale meat to be processed in one of its fish processing facilities. Hvalur hf, in addition to being a whaling operation, is also an investment company. HB Grandi is, in fact, Hvalur's main source of income.
AWI has helped to expose the actions of Iceland's whaling industry, and has joined forces with animal welfare and conservation groups in the United States and Europe to call on companies that purchase HB Grandi fish to cease purchasing such products to protest HB Grandi's support of commercial whaling. Western Sea Tech Inc. is a US company that buys seafood from HB Grandi. We need your help to let them know that they should not support the killing of fin whales, a protected and iconic species.