Action
None needed at this time.
Update
The CITES Conference of the Parties concluded on Tuesday, October 4, with mixed results for African elephants. The proposal to transfer African elephants in Botswana, Namibia, South Africa, and Zimbabwe to Appendix I of CITES was not adopted. The United States voted against the proposal. Many are, understandably, frustrated with the actions of United States (represented by officials from the US Fish and Wildlife Service), which justified its vote by saying it feared that if all African elephants were listed on Appendix I, countries that wanted to trade in and buy ivory could all take "reservations" (a mechanism to sidestep oversight by CITES). However, this justification does not hold water: It is unlikely that ivory-importing countries like China and Japan would have taken reservations, given that that doing so would draw too much negative international attention. If ivory-exporting countries do not have an importing country available, they wouldn't have an opportunity to sell the ivory. The United States is the depository government of CITES and, on principle alone, it should have had confidence in the effectiveness of a CITES Appendix I listing and voted "yes" on listing all African elephants on Appendix I.

On a positive note, several decisions were made that will help protect elephants, including a decision urging all parties and nonparties to close domestic ivory markets and a decision to stop any further discussion about a process to legalize the international trade in ivory.
---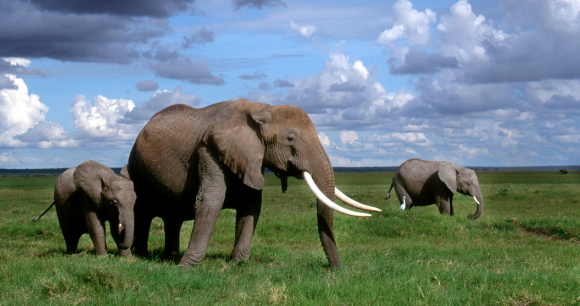 Dear Humanitarian,
It is estimated that nearly 100 African elephants are slaughtered each day for their ivory. The poaching and illegal trade in ivory is driving elephant populations toward extinction.
With about 400,000 elephants remaining in Africa, strong action is needed now to save these animals.
Join us in asking member countries of CITES (Convention on International Trade in Endangered Species of Wild Fauna and Flora) to protect all African elephants and extinguish any possibility of legalized ivory trade.
Specifically, we, as part of an alliance that includes the Amboseli Trust for Elephants, the Born Free Foundation, the David Shepherd Wildlife Foundation, Elephant Action League, Elephants DC, ElephantVoices, Fondation Franz Weber, Humane Society International, International Primate Protection League, Pro Wildlife, the Royal Society for the Prevention of Cruelty to Animals, the Society for the Conservation of Marine Mammals, Denmark, and the US Friends of the David Sheldrick Wildlife Trust, are asking CITES parties, at this fall's 17th Conference of the Parties in Johannesburg, South Africa, to adopt the following proposals from the 29 African nations comprising the African Elephant Coalition:
List all African elephants on CITES Appendix I: This proposal would transfer African elephants in Botswana, Namibia, South Africa, and Zimbabwe to Appendix I of CITES. This would provide all elephants in Africa and Asia the highest standard of international protection by prohibiting all commercial ivory trade.
Close domestic markets for elephant ivory: Under this proposal, parties would be urged to close their domestic ivory markets to reduce demand for ivory—thereby reducing incentives for poaching.
Destroy ivory stockpiles: This proposal sets forth guidelines for the inventory and management of government-held ivory stockpiles and would endorse their destruction—as many countries have already done—in order to send a strong message condemning the poaching of elephants.
End decision-making mechanism for legalizing trade in ivory: This proposal would end any discussion about a process to legalize the international trade in ivory. These discussions, which have been ongoing for nine years, have incentivized elephant poaching. Economists have warned that continued discussions would lead to an expansion in ivory trade that could devastate remaining elephant populations.
Prohibit export of live African elephants: The proposal would end the export of African elephants outside of Africa, including to foreign zoos, and only allow export to other range states for protection of the animals within their natural habitat.