Update
US District Court for the Eastern District of North Carolina approved a settlement agreement on November 13, 2014, between AWI, its allies and the North Carolina Wildlife Resources Commission. The settlement outlines significant steps to protect the world's only wild population of red wolves residing in North Carolina, including banning coyote hunting at night throughout the five-county Red Wolf Recovery Area and during the day on public lands. The US Fish and Wildlife Service was scheduled to conclude the program review November 14, and is expected to release information about next steps for the program in early 2015. More on the settlement here.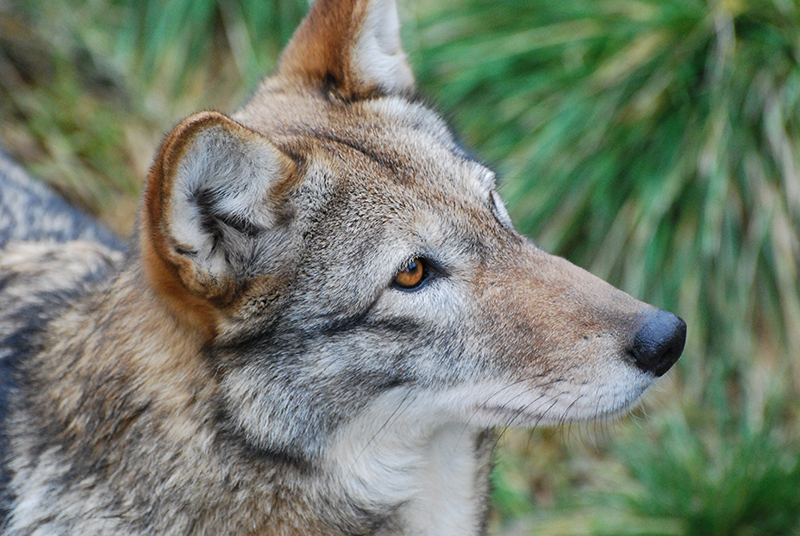 Dear North Carolina Humanitarian,
The last remaining wild red wolves need your help.
Red wolves—whose wild population had once been wiped out—were reintroduced into their native range along the western Albemarle peninsula in the late 1980s. Today, they are a protected species and it is a violation of the Endangered Species Act to hunt red wolves.
But red wolves and coyotes are similar in size, coats, and coloring, so the wolves are frequently mistaken for coyotes and killed when people hunt coyotes during the day. And the North Carolina Wildlife Resources Commission (NCWRC) is making it frighteningly easy to make that mistake. Despite the known difficulty in telling these animals apart, NCWRC has authorized daytime and nighttime hunting of coyotes in the Red Wolf Recovery Area. There are as few as 90-110 left surviving in the wild, and at least 10 percent were killed just last year.
This past October, the Animal Welfare Institute, Defenders of Wildlife, and the Red Wolf Coalition brought suit under the Endangered Species Act, arguing that, by authorizing the shooting of coyotes within the Red Wolf Recovery Area, the NCWRC is causing unlawful take (i.e. harassing, harming, hunting, or killing) of the red wolf. The NCWRC, US Fish and Wildlife Service (USFWS), and local representatives need to hear from red wolf supporters now about the importance of these imperiled creatures.
What You Can Do:
Please contact the NCWRC, USFWS, and local NC representatives and ask them to protect red wolves. Tell them that all coyote hunting—both in daylight and at night—within the Red Wolf Recovery Area threatens the last remaining red wolves in their only habitat in the wild.
You can submit an email to the selected officials on the AWI Compassion Index by clicking here, where you will find a sample message and a list of the selected officials.
Please also share our "Dear Humanitarian" eAlert with family, friends, and co-workers, and encourage them to send a message too.
As always, thank you very much for your help!
Sincerely,
Cathy Liss
President
P.S. Read about our efforts to protect wolves at http://awionline.org/wolves and follow us on Facebook and Twitter for updates on the action above and other important animal protection news.