Action
None needed at this time.
Update
Fortunately, the War on Wolves Act failed to pass in 2018.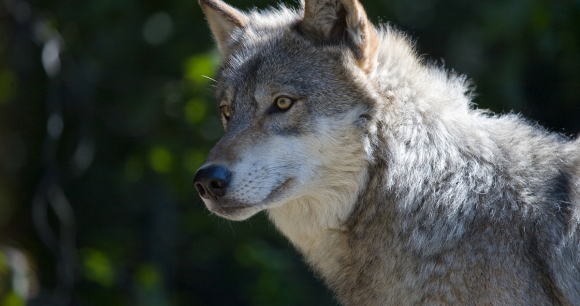 Dear Humanitarian,
Wolves are in the crosshairs. Companion legislation has been introduced in the House (H.R. 424) and the Senate (S. 164), directing the secretary of the interior to turn over management of wolves to the state in Minnesota, Michigan and Wisconsin, effectively stripping wolves of federal protections and allowing for aggressive hunting and trapping of them in these states.
If H.R. 424/S.164 becomes law, the Great Lakes states are likely to sanction brutal killing of wolves. The measure would also block citizens from challenging lethal control programs in court.
What You Can Do:
Please help gray wolves by calling your members of Congress and urging them to oppose any and all attempts to delist wolves. Ask them to oppose (H.R. 424) in the House and (S. 164) in the Senate. You can look up the phone number for your members of Congress by visiting AWI's Compassion Index, or simply call the Capitol switchboard at 202-224-3121, and ask to be connected to the offices of your senators or representative. When you call, provide your contact information and ask your legislator to let you know where he or she stands on the issue. After your call, please send a follow up email using AWI's Compassion Index here.
Calling and requesting a response can often be more effective than simply emailing. If you do call, you don't need to say a lot—just provide your name and mailing address, and a basic message such as the following:
Hello. I am a constituent calling to respectfully request that you reject any bills that would delist wolves from the Endangered Species Act. I urge my [representative to oppose H.R. 424/senator to oppose S. 164]. I want to know where my legislator stands on this issue, and therefore request a response be sent to me; my name and address are [give full name and mailing address].
You may also wish to include the following points in your message:
The bill would allow hunting and trapping of wolves to resume under state control.
In the past, after the US Fish and Wildlife Service decided to delist wolves in Wyoming, Michigan, Minnesota, and Wisconsin, federal courts have had to step in to block these moves because state management plans did not sufficiently protect wolves. This bill, however, would circumvent these federal court decisions and contradict what best available science deems is necessary for gray wolves in these regions.
Please be sure to share our Dear Humanitarian alert with family, friends, and co-workers and encourage them to call, too. Thank you for taking action on behalf of wildlife!
Sincerely,
Tara Zuardo, Esq.
Wildlife Attorney
P.S. Follow us on Facebook and Twitter for updates on the action above and other important animal protection news.