Action
None needed at this time.
Update
On April 18, the House Agriculture Committee approved its version of the farm bill, the Agriculture and Nutrition Act of 2018 (H.R. 2), by a vote of 26 to 20. Unfortunately, it includes the very damaging Protect Interstate Commerce Act. The bill now awaits a full vote by the House of Representatives.
You can read our statement on the committee action here
.
Photo by Mike Suarez
Dear Humanitarian,
The House Agriculture Committee has now released a draft of this year's farm bill. The farm bill must be passed this year in order to reauthorize a variety of programs on which the agriculture sector heavily depends. As in the past, we are advocating for provisions that strengthen animal welfare and against measures that would weaken protections for animals.
There is still time to ensure essential protections for pets are added, while attacks on farm animals and animal welfare are kept out of the bill. In particular, AWI is working to include the Pet Safety and Protection Act, introduced by Representatives Mike Doyle (D-PA) and Chris Smith (R-NJ), and to ensure the Protect Interstate Commerce Act, introduced by Representative Steve King (R-IA), remains out of the bill. The King legislation poses a major threat to the progress that has been made in improving animal welfare.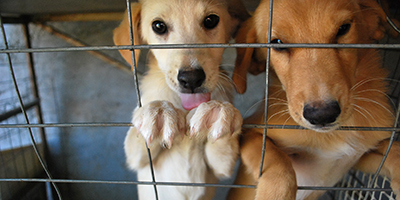 The Pet Safety and Protection Act (H.R. 1141) would end the abuse-ridden system of "Class B" dealers who sell "random source" dogs and cats to laboratories for experimentation. These dealers, licensed by the US Department of Agriculture under the Animal Welfare Act, collect dogs and cats from a variety of sources to sell to research facilities. Historically, many of these animals were former pets acquired through fraud, deception, and outright theft. A permanent end to this notorious pipeline is needed. The inclusion of this legislation in the farm bill is essential to ensure that pets are protected and the unsavory practices of random-source Class B dealers are ended once and for all.
The Protect Interstate Commerce Act (H.R. 3599/H.R. 4879) would limit states' authority to set standards for animal welfare within their own borders while nullifying the progress that has already been made in many states to better protect animals from cruelty. The measure would, for instance, invalidate California's laws prohibiting the sale of foie gras and eggs from hens kept in extremely small, crowded battery cages. It would also interfere with state restrictions on gestation crates for pigs, tail-docking of cattle, horse slaughter, and puppy mills. Moreover, this legislation is so broadly worded that it could adversely affect not only animal welfare, but also food safety, worker protections, environmental quality, and consumer safeguards. Language similar to H.R. 3599/H.R. 4879 was included in the House version of the 2014 farm bill; strong opposition at that time kept it out of the final bill.
What You Can Do
Thank you if you have already contacted your representative on this issue. However, the House Agriculture Committee will be debating and voting on the farm bill this Wednesday! Since your representative sits on that committee, it is imperative that they continue to hear from you. Please once again use this unique opportunity to contact your representative before Wednesday to ensure animals are protected in this important legislation, before it is sent to the full House of Representatives for a vote. Please ask your representative to support inclusion of H.R. 1141 and oppose inclusion of H.R. 3599/H.R. 4879.
Share our "Dear Humanitarian" eAlert with family, friends, and co-workers, and encourage them to contact their representative, too. Thank you for all you do for animals!
Sincerely,
Cathy Liss
President
P.S. Follow us on Facebook, Twitter, and Instagram for other important animal protection actions and news.