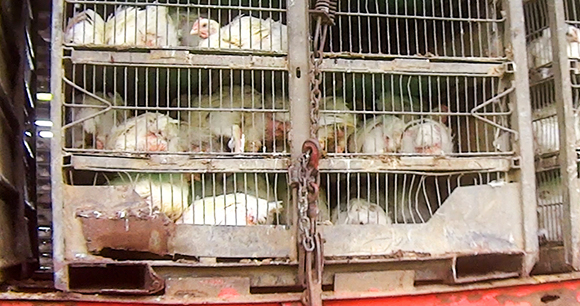 Photo from Mercy for Animals
Dear Humanitarian,
A recent review of USDA enforcement records has revealed more than 50 incidents in which birds were knowingly neglected or abandoned during transport or at the slaughterhouse. In all of the instances, large numbers of birds suffered; often, hundreds or thousands of them died. In one case, more than 34,000 birds froze to death in unprotected trucks en route to slaughter.
Examples of mistreatment described in the records include birds loaded in high temperatures without the use of fans or misters, birds transported in low temperatures without covers on the trucks, birds held at the slaughterhouse without protection from extreme heat or cold, and birds held for slaughter for several days without food, water, and adequate shelter. Many of these incidents appear to violate state animal cruelty laws.
More than two years ago, the Animal Welfare Institute alerted the USDA to concerns over intentional neglect or abandonment of birds. Two years prior to that, AWI and Farm Sanctuary petitioned the USDA to regulate the handling of birds at slaughter. The petition explains that the USDA not only has the authority to regulate how birds are treated, it is also legally obligated to do so to prevent the adulteration of poultry products. Unfortunately, the department has failed to act and, consequently, the suffering of birds at slaughter continues.
Sincerely,
Cathy Liss
President
P.S. Follow us on Facebook, Twitter, and Instagram for other important animal protection actions and news.