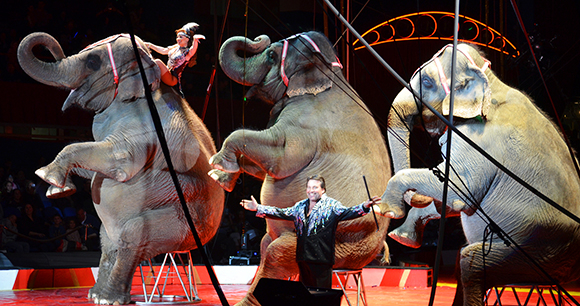 Photo by Tim Evanson
Dear Humanitarian,
Wild animals used in traveling shows aren't given a choice about whether to perform. Unlike human entertainers, they are kept imprisoned and forced to take part in the show. It's time to end this exploitation and ban the use of exotic animals in circuses.
A federal bill called the Traveling Exotic Animal and Public Safety Protection Act (TEAPSPA) would do just that. This legislation was reintroduced in the House of Representatives in May (H.R. 2863) and was introduced for the first time in the Senate in July (S. 2121).
The animals used in circuses endure countless hours inside cramped cages and trailers as they're hauled from show to show. Their training often involves punishing methods, and their handlers may beat, restrain, and sedate them. Keeping wild animals in such close proximity to humans also poses a significant public safety risk, and there have been numerous tragic incidents resulting in injury or death.
Six states and more than 135 municipalities have passed legislation to restrict or ban exotic animal acts, and TEAPSPA would unify this patchwork of laws and ensure that the use of exotic animals in circuses is prohibited nationwide.
Sincerely,
Cathy Liss
President
P.S. Follow us on Facebook, Twitter, and Instagram for other important animal protection actions and news.