Action
None needed at this time.
Update
June 21, 2017 Update: Great news! Intro. 1233 passed the full council today by a vote of 43-6. Mayor Bill de Blasio is expected to sign the bill, meaning that circus animals will soon be a thing of the past in NYC.
June 15, 2017 Update: Great news! Intro. 1233 passed out of committee today, which guarantees that it will receive a vote in the near future before the full city council. This is historic progress, but the fight is not over yet. Please all your council member right now and encourage them to vote yes! Find your council member here: http://council.nyc.gov/districts.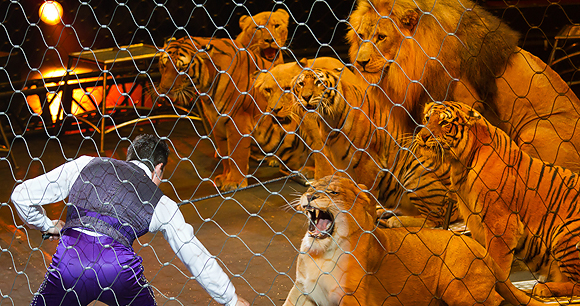 Dear New York City Humanitarian,
Great news on the New York City bill banning the use of performing animals in circuses: it now has enough support on the city council to pass. The only remaining hurdle is making sure that it receives a vote, and we need your help to make that happen!
What You Can Do
Please call Council Speaker Melissa Mark-Viverito TODAY at 212-788-7210 and simply say "Hi, my name is ___ and I live at ____. I'm calling to urge the Speaker to support the bill to ban exotic animal performances in circuses, Intro. 1233, and schedule a vote on it as soon as possible. This issue is very important to me. Thank you."
This call will only take a couple of minutes, and will make a huge difference. We are SO close to banning the use of animals such as lions, tigers, bears, and elephants by any circus that comes to New York City.
Please be sure to share our "Dear Humanitarian" eAlert with family, friends, and co-workers in NYC, and encourage them to contact Speaker Mark-Viverito, too. As always, thank you very much for your help!
Sincerely,