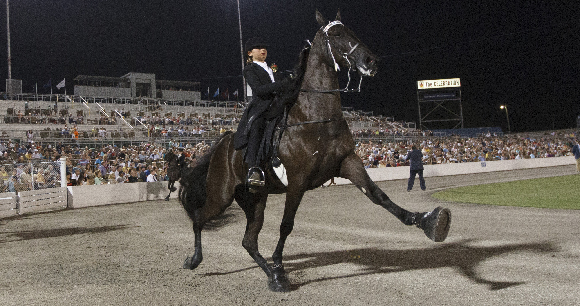 Photo courtesy of HSUS
Update: On July 25, the US House of Representatives passed the Prevent All Soring Tactics (PAST) Act (H.R. 693), with 333 Representatives voting in favor of the legislation. The bill now only needs to pass the Senate to be sent to the President's desk. Please visit AWI's Compassion Index to urge members of the Senate to quickly take up this measure and protect horses from abuse.
Dear Humanitarian,
"Soring"—which involves intentionally inflicting pain on a horse's hooves and front limbs to produce an exaggerated high-stepping gait known as the Big Lick—remains a persistent and rampant practice in Tennessee Walking Horse competitions. To end this abuse, Reps. Kurt Schrader (D-OR) and Ted Yoho (R-FL)—veterinarians who co-chair the Congressional Veterinary Medicine Caucus—have joined Reps. Steve Cohen (D-TN), Ron Estes (R-KS), Jan Schakowsky (D-IL), and Chris Collins (R-NY) in reintroducing the Prevent All Soring Tactics (PAST) Act (H.R. 693). Senators Mike Crapo (R-ID) and Mark Warner (D-VA) have introduced a companion bill in the Senate (S. 1007).
The PAST Act (H.R. 693/S. 1007) would amend the Horse Protection Act to crack down on the barbaric abuses involved in soring, such as grinding down the hoof to expose sensitive tissues, applying chemicals to burn a horse's flesh, inserting sharp objects into the sole of the hoof, and using large stacked shoes and chains to exacerbate the pain these animals endure—purely for the sake of "competition." The legislation would end the industry's failed system of self-policing, explicitly ban the use of devices implicated in the practice of soring, and strengthen penalties.
The PAST Act overwhelmingly passed the House on July 25, after amassing a staggering 308 cosponsors in the House. The time is now ripe to press the Senate to build on this historic win and swiftly pass this bill.
Sincerely,
Joanna Grossman, PhD
Equine Program Manager
P.S. Follow us on Facebook, Twitter, and Instagram for other important animal protection actions and news.