Action
None needed at this time.
Update
These hearings were well attended. Thank you to all those who were able to attend and speak up for red wolves.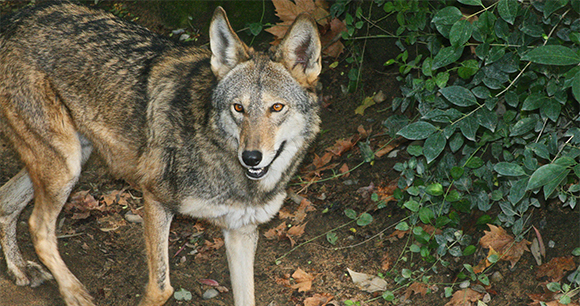 In September of last year, the US Fish and Wildlife Service made an announcement concerning the future of the red wolf recovery program in eastern North Carolina that called for undermining decades of hard work restoring red wolves to a small portion of their historic range and threatened the very survival of the species in the wild. The agency called for significantly reducing the range of the existing wild population by removing individual red wolves from the wild in order to increase the captive breeding population—something the scientific community has said is unnecessary and harmful to red wolf survival.
In June, the USFWS will hold two public hearings in eastern North Carolina and collect written comments on the future management of the wild population in the five counties where the wolves currently live. In the last three years, the red wolf population has declined dramatically, from approximately 100 animals to fewer than 30 monitored wolves and only three known breeding pairs. The population is now in such dire condition that leading scientists have said that continuing to manage in this manner would likely lead to the species' extirpation within eight years.
What You Can Do
The USFWS needs to hear from you! Please comment and/or attend a meeting to show your support for the red wolf!
1. If you live in North Carolina, please attend and speak at one or both meetings in the following locations:
June 6, 2017, 6:30-8:30PM
Mattamuskeet High School
20392 US 264, Swan Quarter, NC 27885
June 8, 2017, 6:30-8:30PM
Coastal North Carolina National
Wildlife Refuges Visitor Center
100 Conservation Way, Manteo, NC 27954
Suggested talking points:
I am a North Carolina resident who strongly supports red wolves in the wild in North Carolina. Without wild populations of red wolves, there is no real recovery of the species.

Red wolves lived successfully in the wild in North Carolina for over 20 years before the Service began to actively neglect the program and remove the wolves. The original recovery plan called for three populations of 220 wolves in the wild—this is what the Service should be working towards.

The Service should resume using important tools such as pup fostering and controlling both coyote hybridization and gunshot mortality—all of which are part of its original adaptive management plan. Coyote hybridization was well under control before the state proposed night hunting of coyotes.

The red wolves have not been a threat to people, companion animals, or livestock. Given how incredibly vulnerable this wild population is, killing of red wolves that are causing no problems should not be allowed. There are plenty of nonlethal deterrents available to private landowners concerned about red wolves on their property.
We expect that these meetings will be heavily attended by highly vocal people opposed to red wolf recovery in the five-county area. Please plan to attend, bring family and friends, and voice your support for the red wolf recovery program! To access more detailed information about the above talking points, see AWI's emergency petition to the USFWS to revise the red wolf's 10(j) rule and petition for a new red wolf recovery plan.
2. Submit written comments before the July 24, 2017 deadline. You may send your comments to the USFWS in any of the following ways:
Via the AWI website: Send your message directly to the USFWS via our online Compassion Index. Once on the website, you will find a sample message to send.
Via US postal mail to the following address:
Comments Processing
Attn: FWS-R4-ES-2017-0006
Division of Policy, Performance, and Management Programs
US Fish and Wildlife Service Headquarters
MS: BPHC
5275 Leesburg Pike
Falls Church, VA 22041–3803
Also, be sure to share our "Dear Humanitarian" eAlert with family, friends and co-workers, and encourage them to contact the USFWS. As always, thank you very much for your dedication to protecting animals!
Sincerely,
Tara Zuardo
Wildlife Attorney
P.S. You can learn more about our efforts to protect red wolves by visiting https://awionline.org/cases/protection-red-wolves. Follow us on Facebook and Twitter for updates on the action above and other important animal protection news.