Action
None needed at this time.
Update
The comment period has closed. AWI will continue to provide updates on this issue and notify its supporters of any additional opportunities for public comment.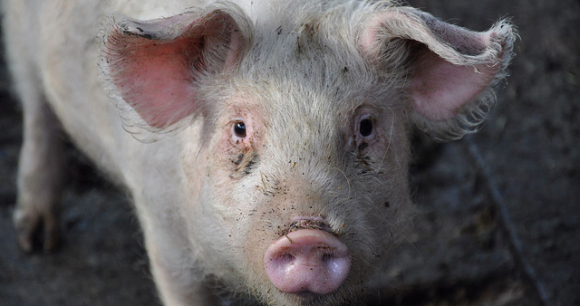 Dear Humanitarian,
The US Department of Agriculture (USDA) is proposing to allow slaughterhouses that kill pigs to operate without any line speed limits, further endangering the welfare of these intelligent, sensitive animals.
Pigs are already slaughtered on some lines at an astonishing rate of approximately 1,100 per hour. With this new rule, line speeds could reach up to 1,300 or even 1,500 pigs per hour--speeds virtually guaranteed to result in rougher handling and mishaps that increase the suffering of the animals being rushed through the lines. The proposal also lowers the number of government inspectors at pig slaughter plants. This reckless action endangers workers and threatens the welfare of already vulnerable animals and workers in pig slaughterhouses, as well as risking the safety of the nation's food supply.
What You Can Do
Please use AWI's online form to contact the USDA and let the department know that you oppose its proposal to increase the slaughter line speed and decrease the number of government inspectors in US pig slaughterhouses. (Note: When you submit comments through AWI's website, your name and comments will be publicly viewable on the official comment page at Regulations.gov.) You may also submit your comments directly at https://www.regulations.gov/comment?D=FSIS-2016-0017-0001. Comments must be submitted by May 2.
Share our "Dear Humanitarian" eAlert with family, friends, and co-workers, and encourage them to write, too. Thank you for all you do for animals!
Sincerely,
Cathy Liss
President
P.S. Follow us on Facebook, Twitter, and Instagram for other important animal protection actions and news.