Action
None needed at this time.
Update
The comment period has closed. AWI will be monitoring any regulatory changes the USDA proposes with respect to how inspections are conducted.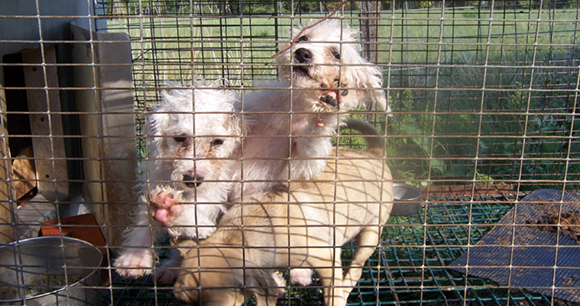 Dear Humanitarian,
AWI is alarmed to report that the US Department of Agriculture is resurrecting a discredited idea from the past that would undermine Animal Welfare Act (AWA) enforcement by putting animals at the mercy of the industries that exploit them. The USDA's Animal and Plant Health Inspection Service (APHIS), which is responsible for AWA and Horse Protection Act (HPA) enforcement, has scheduled a series of "listening sessions" across the country to "solicit public comment to aid in the development of criteria for recognizing the use of third-party inspection and certification" at facilities licensed or registered under the AWA." In other words, industry self-policing.
 
Under this proposal, APHIS would recognize the "certification" and "inspection" programs run by trade associations for puppy mills and other unscrupulous breeders and exhibitors when determining how often federal inspectors would visit these facilities, thus allowing these breeders and exhibitors to escape the USDA's stricter scrutiny. This would also apply to research laboratories. The accrediting program for labs—the Association for Assessment and Accreditation of Laboratory Animal Care International (AAALAC)—has its own serious shortcomings: Site visits (not inspections) are conducted only once every three years, whereas the AWA mandates at least one inspection per year of labs. Unlike USDA inspections, third-party visits are announced ahead of time, giving the facility an opportunity to cover up any problems.
 
In short, regardless of the facility in question, there is no substitute for the unannounced compliance inspections conducted by the USDA's experienced staff or for the availability to the public of such inspection reports, and no substitute for the enforcement mechanisms available under the law. We thought the USDA had learned this lesson as a result of the fiasco of trying to rely on individuals appointed by the walking horse industry to enforce the HPA's prohibition on the horribly cruel practice of horse soring—but apparently not.
What You Can Do
AWI vehemently opposes this proposal and will attend the listening session at APHIS headquarters next month. Please attend one of the sessions, if possible, and/or join the phone-in meeting in March. Here is the schedule and link for registering. Feel free to use these comments if you attend in person or participate in the phone-in session.
I strongly object to the USDA's proposal to recognize third-party inspection and certification programs as a factor in determining inspections of licensed and registered facilities under the Animal Welfare Act.
Add any/all of the following points:
The USDA should NOT offer the prospect of fewer inspections or any other incentives for participation in such third-party programs.
There is no substitute for a system of thorough, unannounced inspections by trained and experienced inspectors and for robust enforcement of the AWA.
Third-party programs are not focused solely on ensuring compliance with the Animal Welfare Act. They are created by industry entities that have a strong vested interest in protecting their member businesses. USDA inspectors often find problems at facilities that proudly proclaim compliance with one third-party program or another.
The USDA's experience with the designated qualified person (DQP) arrangement for enforcing the Horse Protection Act, under which the horse soring industry has been allowed to appoint inspectors at shows, exposed the risks and weaknesses associated with using third-party programs.
Reports, if there are any, from "inspections" conducted by third parties are not available to the public, unlike USDA reports. Indeed, AAALAC emphasizes that its process is confidential, and site visit results are known only by the lab and AAALAC, even if deficiencies are found. This thwarts transparency and accountability.
The USDA should set as its goal a minimum of annual inspections for all licensees and registrants, not just research facilities. Beyond that, the inspection schedule for any given facility licensed or registered under the AWA should be based solely on that facility's history of compliance (or lack thereof) with the AWA.
If the USDA strengthened its enforcement of the law and responded to violations in a more timely fashion, this would send a message to facilities that they better meet the minimum requirements under the law. Facilities that cannot comply should have their licenses permanently revoked—the USDA needn't waste time year after year with those dealers and exhibitors who can't care for the animals properly and can't comply with the law.
If attending one of the meetings or the phone-in session is not possible, you can provide comments to the USDA by clicking here. Please send them by March 21. (Note: Your name and comments will be publicly viewable on Regulations.gov.) You may also submit your comments directly at https://www.regulations.gov/document?D=APHIS-2017-0102-0001. 
 
Be sure to share our Dear Humanitarian alert with family, friends, and co-workers and encourage them to attend a listening session or provide comments! As always, thank you for taking action on behalf of the animals.
Sincerely,
Cathy Liss
President
P.S. Follow us on Facebook and Twitter for updates on the action above and other important animal protection news.