Action
None needed at this time.
Update
We are thankful to Reps. Lamar Smith (R-TX) and Ted Deutch (D-FL) for introducing H.R. 1494, the Preventing Animal Cruelty and Torture (PACT) Act. Unfortunately, by the close of the 115th Congress, only the Senate had passed the PACT Act. AWI will be working to ensure that this bill is reintroduced in the 116th Congress.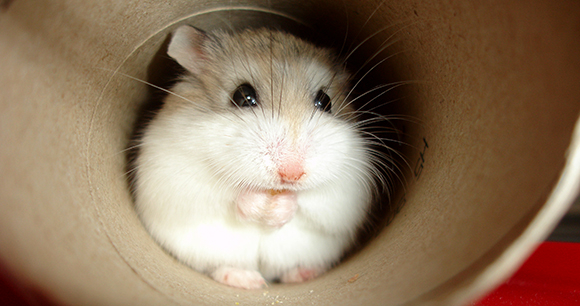 Dear Humanitarian,
Some time ago, we asked you to contact House Majority Leader Kevin McCarthy (R-CA) to ask that he schedule a vote on H.R. 1494, the Preventing Animal Cruelty and Torture (PACT) Act. Because of the objection of one member of the House, he has failed to do so, even though this bill has 282 cosponsors—more than 60 percent of the House, an almost unprecedented level of bipartisan support.
One year ago, on December 14, 2017, the Senate passed its version of the bill, S. 654. It is shameful that, as the 115th Congress is about to turn out the lights and go home, the House still has not acted on this legislation. Outgoing Majority Leader McCarthy should bring this important bill to the floor now in order to outlaw sadistic and brutal acts of animal cruelty.
Background
In so-called "crush videos," individuals viciously torture, mutilate, and kill small animals to satisfy the bizarre fetishes of viewers. Although there is a federal law prohibiting the creation and distribution of such videos, it does not cover the underlying acts of animal abuse. Often, it is not possible to identify from the video alone where the act took place—thus rendering it out of reach of state laws that might otherwise punish the perpetrators. The PACT Act would eliminate this problem by extending federal jurisdiction to these particularly heinous acts.
Preventing and punishing such cruelty is critical to ensuring both animal welfare and human safety. More and more, the law enforcement and legal communities recognize that animal cruelty is a serious crime in and of itself and a precursor to other violent crimes. By providing law enforcement and the criminal justice system with another tool for responding to unspeakable acts of animal cruelty, the PACT Act would protect our communities from many types of violence.
What You Can Do
Please contact Majority Leader Kevin McCarthy and ask him to bring H.R. 1494 to the House floor for a vote immediately, so that the House of Representatives can pass this important piece of legislation, just as the Senate has.
You can call Majority Leader McCarthy at 202-225-4000. Following are some brief talking points to highlight when you call:
H.R. 1494, the Preventing Animal Cruelty and Torture Act, is a strongly bipartisan bill, with 282 cosponsors.
The Senate has already passed its version of the bill, and it is now up to the House of Representatives to act in order to outlaw these particularly disturbing and sadistic acts of animal abuse.
Current law regarding "crush videos" does not cover the heinous acts of animal cruelty themselves—it covers only the creation and distribution of the videos. The PACT Act is needed to close this unintended loophole.
The PACT Act is consistent with other federal laws that address malicious acts of animal cruelty that affect interstate commerce.
If you live in Rep. McCarthy's Congressional district (CA 23), you can also send him an email here.
Be sure to share our Dear Humanitarian alert with family, friends, and co-workers and encourage them to help, too! As always, thank you for taking action on behalf of the animals.
Sincerely,
Cathy Liss
President
P.S. Follow us on Facebook, Twitter, and Instagram for other important animal protection actions and news.