Action
None needed at this time.
Update
In March of 2019, the BLM rescinded its controversial new sales policy (outlined below) that would have put wild horses and burros at risk of slaughter. The agency issued a new Instruction Memorandum stating that, effective immediately, all staff and field offices would comply with more stringent protections that would limit purchasers to four horses per sale, with a waiting period of six months between transactions.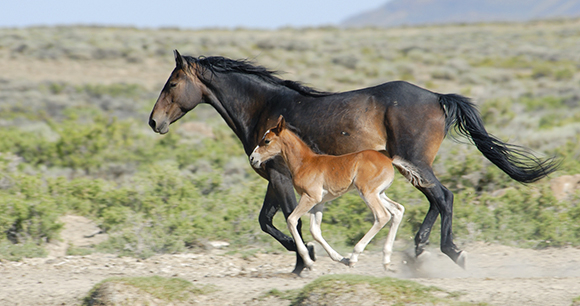 Photo by Skibreck
Dear Humanitarian,
A few weeks ago, the Bureau of Land Management (BLM) quietly issued a new policy loosening limitations on the number of wild horses and burros that can be sold to any one buyer. Under the new directive, 25 animals can be included in a single sale with no wait time between transactions--meaning buyers who intend to resell the animals for slaughter ("kill-buyers") can obtain additional animals almost immediately.
The Trump administration's reversal on this front offers a troubling path for wild horses to wind up directly in the horse slaughter pipeline. The BLM's previous and more prudent policy allowed an individual to purchase up to four horses at one time, with a wait time of six months per transaction. The four-horse limit was put into place after the public learned that the BLM was inadvertently funneling wild horses to a notorious kill-buyer. In 2015, the Department of the Interior Office of Inspector General (OIG) released an alarming report outlining how the BLM had allowed a staggering 1,800 wild horses to be sold for slaughter due to lax oversight of the adoption program.
Wild horses and burros are federally protected under the Wild Free-Roaming Horses and Burros Act. As part of the annual appropriations cycle, Congress regularly passes language explicitly stating that it is illegal to sell these equines for any purpose that results in their "destruction for ... commercial products." Despite this, as the OIG investigation revealed, it is far too easy for kill-buyers to purchase wild horses and transport them across the border to meet a grisly fate in a Canadian or Mexican abattoir.
Sincerely,
Joanna Grossman, PhD
Equine Program Manager
P.S. Follow us on Facebook, Twitter, and Instagram for other important animal protection actions and news.