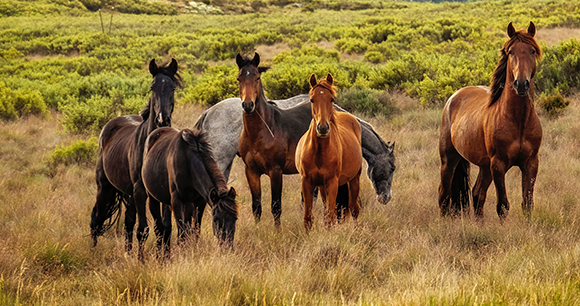 Photo by Christine Mendoza
Dear Humanitarian,
The Bureau of Land Management (BLM) recently announced that it again intends to move forward with inhumane surgical sterilization experiments on wild horses. This is the fourth time the agency has tried to implement a controversial, risky, and outdated procedure known as "ovariectomy via colpotomy" on wild mares. The surgery involves blindly inserting a rod-like tool with a chain at the end to sever and remove the animal's ovaries.
Wild mares subjected to these ovariectomies would remain conscious during the surgery and would receive minimal post-operative care. The National Academy of Sciences explicitly warned the agency not to utilize this method due to risks of trauma and infection, and two major academic institutions—Oregon State University and Colorado State University—previously withdrew their affiliation with the experiments in response to massive public outcry.
Even so, the BLM tried to implement the ovariectomy plan on its own last fall, aiming to conduct up to 25 surgeries a day, including on pregnant mares in order to quantify the incidence of aborted foals. AWI went to court and successfully secured a preliminary injunction to stop the BLM from proceeding at that time. Unfortunately, the BLM remains bent on pursuing mass surgical sterilizations on wild horses so has published a new proposal that is open for public comment until May 27.
Sincerely,
Joanna Grossman, PhD
Equine Program Manager
P.S. Follow us on Facebook, Twitter, and Instagram for other important animal protection actions and news.