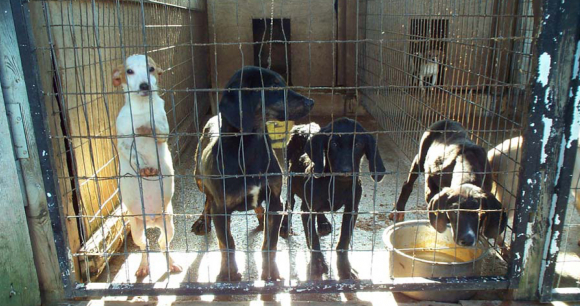 June 6, 2017, update: AWI continues to expose USDA's lack of transparency and failure to restore records. On May 24, Science published a second article citing further research by AWI's Eric Kleiman indicating that 94 percent of inspections for breeders and dealers that provide animals for the pet trade and, in some cases, research, are still not online. Furthermore, when BuzzFeed and National Geographic made Freedom of Information Act requests to the USDA, the department responded to each request with 1,771 pages that were completely blacked out—all information redacted.
Though federal agencies such as the Securities and Exchange Commission and the Food and Drug Administration routinely publish information about companies and individuals who are alleged to have violated federal law, the USDA continues to withhold information the public needs to hold the department, as well as research facilities, dealers, breeders, and exhibitors, accountable.
March 30, 2017, update: Following the uproar, the Trump administration restored past records to the site. However, AWI has since discovered that the USDA is concealing new inspection reports of animal research facilities from the public. As reported by Science, AWI's Eric Kleiman found that only four reports have been posted on the USDA's website during the first quarter of 2017, compared with 406 reports during the first quarter of 2016. If you have not already done so, please write to the USDA and tell them to stop shielding industry from public scrutiny.
February 22, 2017, update: Last Friday, USDA-APHIS restored to its website a minuscule portion of the enforcement records it had removed earlier this month to appease the industries it regulates. In reaction, AWI's president, Cathy Liss, stated, "The USDA's uploading of annual reports for research facilities is a token gesture that will not satisfy anyone concerned about animal welfare or public accountability. The USDA must restore online access to every record it removed." AWI will monitor the situation and do what it can to get the data restored.
---
Dear Humanitarian,
The USDA's Animal and Plant Health Inspection Service (APHIS) recently scrubbed its website of key documents relating to enforcement of the Animal Welfare Act (AWA) and Horse Protection Act (HPA). AWI condemns in the strongest possible terms APHIS' abhorrent decision—made without any notice or specific explanation—to remove "inspection reports, research facility annual reports, regulatory correspondence (such as official warnings), lists of regulated entities, and enforcement records (such as pre-litigation settlement agreements and administrative complaints) that have not received final adjudication."
In Orwellian fashion, APHIS claims it made this decision in part because of its commitment "to being transparent and responsive to our stakeholders' informational needs … ." In reality, this obstructionist action suggests a complete cave-in to industry.
Indeed, this action sends enforcement of the AWA and HPA back to the Stone Age, when information had to be wrested from APHIS' Freedom of Information Act (FOIA) office. The FOIA office was like a black hole, and it would often take years to fill requests, and by then the data provided was woefully out of date. Now, once again, those wishing to find out what is going on will be at the mercy of the FOIA office's inability (or unwillingness) to fulfill these requests.
Even before this shocking announcement, one reporter asked (while discussing an incident in which AWI called attention to further evidence that the USDA is caving in to the industry it is supposed be regulating), "Why is the USDA Limiting Transparency in Animal Cruelty Complaints?" This reporter noted, quite correctly, that "publicity is probably one of the more effective tools in curbing such [AWA] violations"—sunlight being the best disinfectant.
But with this announcement, transparency has not just been limited—it has been eliminated.
What You Can Do:
Help AWI fight this egregious act that may well facilitate the abuse of animals. Please contact APHIS and ask the agency to make this data available online once again, allowing for real transparency under the AWA and HPA. You can send an email to APHIS through AWI's Compassion Index by clicking here (prepared message provided), or write to the following address:
Administrator Kevin Shea
Animal and Plant Health Inspection Service
US Department of Agriculture
1400 Independence Avenue, SW
Washington, DC 20250
Please be sure to share our Dear Humanitarian alert with family, friends, and co-workers and encourage them to write, too. As always, thank you very much for your help!
Sincerely,
Cathy Liss
President
P.S. Follow us on Facebook and Twitter for updates on the action above and other important animal protection news.