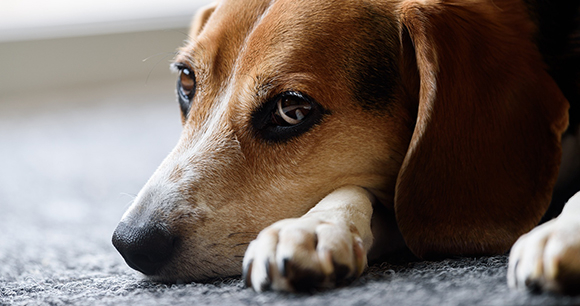 Photo by Mustang Joe
Dear Illinois Humanitarian,
The new session of the Illinois Legislature has gotten off to an impressive start, with several animal-welfare-related bills under consideration! Please contact your legislators and ask them to support the bills listed below. There is a lot of competition for the legislature's time and attention, which is why it is important that your voice on behalf of the animals be heard.
To be convicted under the Illinois Street Gang and Racketeer Influenced and Corrupt Organizations Law—the Illinois RICO law—a person must engage in a pattern of "predicate offenses" connected to a criminal enterprise. HB2030 would include violations of the state's dog fighting statute (Class 2 or higher felonies) as predicate offenses under the Illinois RICO law, and would increase the penalties for dog fighting. This bill would strengthen law enforcement's hand when it comes to breaking up animal fighting rings, which are often associated with many other serious crimes, including gambling, money laundering, and drugs.
Current state law prohibits the use of elephants in circuses. HB2554 and SB0154 would extend that prohibition to other exotic animals. Illinois would join New Jersey and Hawaii as the only states to ban a wide range of animals in circuses, thus setting another example for the rest of the country to follow and sending a strong message to the operators of these shows that animal misery will not be tolerated for the sake of "entertainment."
HB3339, the Horse-Drawn Carriage Regulation and Safety Act, would enhance public safety and improve the welfare of horses pulling carriages in Illinois. Just this past summer, a horrific accident occurred in LaSalle County; a horse-drawn carriage flipped over, injuring nine individuals. Unfortunately, accidents of this nature are all too common. Horses pulling 1,000-pound carriages, especially in urban settings, can be easily spooked, posing a threat to the safety of individuals and the horses themselves. While cities like Chicago have considered outright bans on horse-drawn carriages, at a minimum the industry should be regulated. HB3339 would limit the times during which horse-drawn carriages can operate so that horses are not subjected to the most high-density traffic or extreme weather. It also requires veterinary care, adequate living conditions for the animals, and training for carriage operators.
SB0201 would prohibit the use of lead ammunition by hunters in Illinois. It is well established that lead is a potent neurotoxin, and there is no level of exposure that is considered safe. Scientists have found that lead ammunition is likely the greatest largely unregulated source of lead knowingly discharged into the environment in the United States, and that it poses significant health risks to humans and wildlife. Lead ammunition kills millions of animals every year—including bald eagles, hawks, doves, and a number of mammal species—when they feed on carcasses left by hunters, or when foraging animals ingest spent lead shot on the ground. Hunters and anglers have many nontoxic ammunition alternatives from which to choose.
SB0241 prohibits the sale of any cosmetic if the final product or any ingredient was tested on animals after January 1, 2020. Passage of this bill would provide yet more incentive for cosmetic companies to invest in cheaper, timelier, and more effective non-animal alternatives that would help them remain competitive in a changing global market while freeing animals from painful procedures. Such alternative tests are available, and any company selling cosmetics in Europe already has to comply with the European Union's ban on animal testing. A similar ban will take effect in California next year, so this would make compliance with an Illinois law even easier.
What You Can Do
There is a lot going on in the Illinois state house! These bills are likely to come up for committee consideration next week, so your legislators need to hear from you! You can send separate emails to your state representative and senator through our Compassion Index.
Please be sure to share our "Dear Humanitarian" eAlert with family, friends and co-workers in Illinois, and encourage them to send a message also. As always, thank you very much for your help!
Sincerely,
Cathy Liss
President
P.S. Follow us on Facebook, Twitter, and Instagram for other important animal protection actions and news.