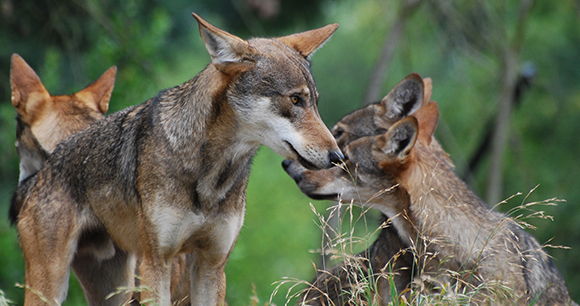 Dear Humanitarian,
On May 13, 2014, AWI and co-plaintiffs won an important preliminary legal victory to protect red wolves in North Carolina. A federal court halted all coyote hunting (a huge threat to red wolf survival) in the 1.7 million acres where the only population of wild red wolves live and roam. You can learn more about our efforts to protect red wolves by visiting https://awionline.org/cases/protection-red-wolves.
But the battle is not over. Although we have halted coyote hunting in the designated Red Wolf Recovery Area, we must still fight to ensure that red wolves have a future in North Carolina. Red wolf recovery efforts must be maintained and expanded if the species is to survive in the wild. Consequently, it is imperative that the US Fish and Wildlife Service (USFWS) continues to stand behind and fully fund this program.
We need your help to show that the American public supports the red wolf and the USFWS' efforts to protect and recover this critically endangered species, and that we do not want these wolves to be exterminated once again from their native lands.
What You Can Do
Please contact USFWS and let it know you support efforts to recover red wolves in North Carolina.
You can submit an email to USFWS on the AWI Compassion Index by clicking here, where you will find a sample message.
Also, be sure to share our "Dear Humanitarian" eAlert with family, friends and co-workers, and encourage them to contact USFWS. As always, thank you very much for your dedication to protecting animals!
Sincerely,
Cathy Liss
President
P.S. Follow us on Facebook and Twitter for updates on the action above and other important animal protection news.