Action
None needed at this time.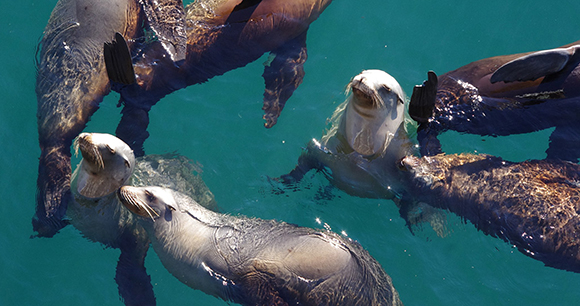 Photo by David Merrett
Dear Humanitarian,
Just as we feared, one week after the Oregon Department of Fish and Wildlife received authorization from the National Marine Fisheries Service to begin the lethal removal of California sea lions in the Willamette River, the US Senate will be voting on legislation that would increase tenfold the number of sea lions killed every year in the Pacific Northwest.
The Endangered Salmon Predation Prevention Act (S. 3119)—the "Killing Sea Lions Act" would be more accurate—has been placed on the Senate calendar and could soon receive a vote by the chamber. This abhorrent legislation would amend the Marine Mammal Protection Act (MMPA) to facilitate the killing of almost 1,000 sea lions every year, and is premised on the false notion that killing sea lions will save endangered salmon.
This ill-conceived legislation is rapidly moving through the chamber at a time when public support for comprehensive marine mammal protections has reached a new high. According to recent polling conducted by AWI and its allies, 83 percent of people support protecting sea lions and other marine mammals from the threats they currently face. This bill flies directly in the face of what the majority of Americans want.
Currently, the MMPA allows states to apply for permits that allow for the killing of "individually identifiable" sea lions who are seen eating salmon from runs listed under the Endangered Species Act. The total number of sea lions who can be killed each year is capped at 92 animals. There are also requirements for public oversight of this lethal control program. S. 3119 would remove these safeguards, which have been in place for nearly 25 years, and increase allowable kills tenfold, essentially instituting a cruel and unnecessary sea lion cull.
What You Can Do
The Senate is acting quickly to pass this legislation during the "lame duck" session (before the new Congressional session begins in January).
Please urge your senators to protect sea lions by voting no on S. 3119, the Endangered Salmon Predation Prevention Act, when it comes to the floor! It is important to send your letter today, even if you have already contacted your senator about this bill.
Thank you for taking action on behalf of sea lions and ensuring that their protections under the MMPA remain intact! Please share this eAlert with your family, friends, and co-workers.
Sincerely,
Cathy Liss
President
P.S. Follow us on Facebook, Twitter, and Instagram for other important animal protection actions and news.