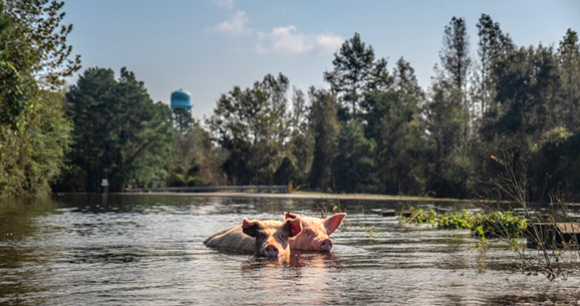 Dear Humanitarian,
Hurricane Florence struck North Carolina in mid-September, killing more than 50 people and destroying countless homes. In addition to the human toll, more than 4 million farm animals died—abandoned and left to drown in the rising floodwaters. Instead of prioritizing animal welfare and disaster planning, industrial farm operators simply locked the animals in their confinement sheds and walked away, treating them as nothing more than replaceable commodities. A few weeks later, Hurricane Michael hit, claiming at least 29 human lives and, once again, millions of animals. It has been reported that in Georgia alone more than 2 million chickens died in the storm's aftermath.
The USDA's Livestock Indemnity Program reimburses farmers for losses without any requirement that they have a disaster management plan in place. According to the Humane Farming Association, since 2013, the USDA has reimbursed farming operations approximately $200 million for weather-related farm animal deaths.
Sincerely,
Cathy Liss
President
P.S. Follow us on Facebook, Twitter, and Instagram for other important animal protection actions and news.
Photo by Kelly Guerin - We Animals