Action
None needed at this time.
Update
A ban on the slaughter, as well as the import/export, of dogs and cats for human consumption was included in the 2018 Farm Bill and signed into law. We thank Reps. Alcee Hasting (D-FL) and Vern Buchanan (R-FL) for their leadership on this issue in the 115th Congress.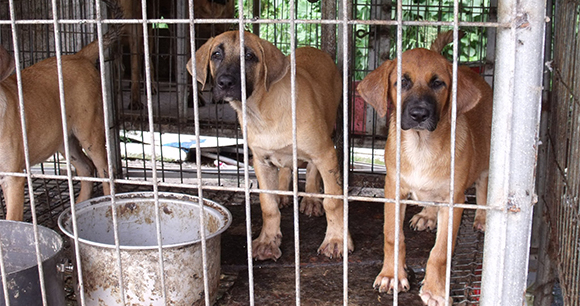 Dear Humanitarian,
The Yulin Dog Meat Festival—the annual 10-day event that results in the slaughter of thousands of dogs—comes to a close Friday, June 30. During the festival, dogs are transported by vendors to the city where they are butchered for their meat, which is then served in street stalls and local restaurants.
Many of the dogs transported to Yulin are stolen family pets, often still wearing their collars and tags. Their journey is a long and torturous one: The doomed animals are packed into crates, stacked one on top of the other, and deprived of food and water. Many do not make it to Yulin alive. During the festival, it is common to see dogs tortured, butchered, cooked, and eaten, with no regard for their suffering.
It is easy to think that this practice would never occur in our own backyards. However, not only is it legal to slaughter dogs and cats for human consumption in 44 states, but it has in fact happened here. For example, in suburban Wisconsin an individual with a federal license to sell dogs and cats to laboratories butchered and sold the meat from stray animals, pets stolen from residential areas, and dogs acquired through "free to a good home" ads.
What You Can Do
Ask your US representative to cosponsor the Dog and Cat Meat Trade Prohibition Act of 2017 (H.R. 1406) to prevent the slaughter of dogs and cats in the US for human consumption. This legislation would prevent the theft of pets for sale into the dog and cat meat trade and protect them from the fear and suffering that this market inflicts. You can email your legislator through AWI's Compassion Index.
Be sure to share our Dear Humanitarian eAlert with family, friends and co-workers and encourage them to email their representative as well. As always, thank you very much for your help!
Sincerely,
Cathy Liss
President
P.S. Follow us on Facebook and Twitter for updates on the action above and other important animal protection news.