Action
None needed at this time.
Update
The comment period is closed, we will monitor this issue and provide an update when it is available.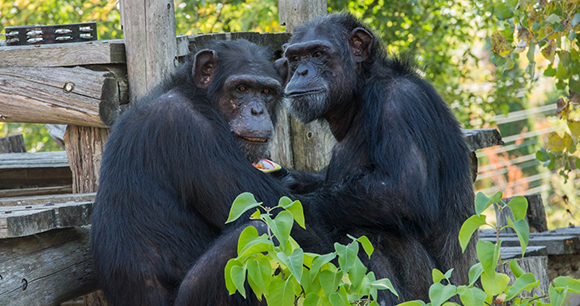 Dear Humanitarian,
The National Institutes of Health (NIH) decided that all of the chimpanzees it "owns" or supports who have been retired from use in experiments are eligible for relocation to sanctuary. The chimpanzees are supposed to be retired as space becomes available, and the timing is supposed to consider their health, welfare, and social grouping. Now an effort is underway by some in the research industry to deny sanctuary for some chimpanzees with health issues.
The NIH is soliciting public input on the retirement of all 272 NIH-owned chimpanzees who have not yet been placed with sanctuaries. It has received recommendations from a working group established to assess the safety of relocating at-risk chimpanzees, but not all of the recommendations are in the best interest of the individuals, who deserve the best quality of life for their remaining time on earth, which for some could be several decades.
What You Can Do
It is critical that you voice your strong support for the expeditious transfer of all NIH chimpanzees to bona fide sanctuaries. Please submit comments to the NIH by the August 10 deadline.
Click here to go to the required form for submitting comments. As you'll see when you link to the comment site, the format is designed to complicate the submission of input from the public. Please don't be discouraged! All you need to do is the following:
A) Fill out your email address (recommended), your organization's name (if there is one), and your city and state (optional, but recommended).
B) Separate boxes are provided for responses to seven recommendations and then an eighth box for any additional comments. We have provided suggested texts for responses to recommendations 1 and 6 and then additional comments for the last box. You can leave the other boxes blank. You need only copy and insert the text provided below in the section indicated in bold.
Comments on RECOMMENDATION 1:
All of the chimpanzees should be removed from laboratories and relocated to sanctuaries as soon as possible. The only exception is if a chimpanzee is moribund (actively dying) and, if so, he or she should not be moved. Hundreds of chimpanzees have been retired to sanctuaries without incident and there is no evidence that transfer to a sanctuary at any stage of health is risky for a chimpanzee.
The quality of life for these chimpanzees is vitally important; thus, consideration of the length of the life alone is wholly inadequate. Chimpanzees are sentient, social, and intelligent and deserve to live in the best possible housing, with ample enrichment and socialization with companions. All captive chimpanzees should live in sanctuaries that are specifically designed for their well-being. Laboratories, in contrast, are focused on facilitating research protocols. The NIH's own Institute of Medicine report stated that sanctuaries are best suited to provide ethologically appropriate environments.
The current contractor that manages the Alamogordo Primate Facility (APF), Charles River Laboratories, is advocating for the approximately 50 remaining chimpanzees there to be deemed "ineligible" for transfer to sanctuary. An uncertain but significant number of chimpanzees at Southwest National Primate Research Center and the Michael Keeling Center for Comparative Medicine and Research would be affected by this decision as well. This is untenable and unethical.
Comments on RECOMMENDATION 6:
This recommendation fails to address the significant conflict of interest for a veterinarian employed by a laboratory that receives funds for holding chimpanzees who would otherwise be relocated to sanctuaries. There is little to no motivation to move chimpanzees to sanctuaries while the labs are being paid for keeping each one. An independent team, with access to the chimpanzees in the labs and to the sanctuaries, should be assembled to determine how to provide the best quality of life. Priority should be given to those chimpanzees considered worst off, along with their social groups.
ADDITIONAL COMMENTS to provide in the last box:
The perspective within and purpose of a sanctuary is quite different from a research laboratory. APF chimpanzees have likely been deprived of natural opportunities such as daily nesting for many years, even their entire lives. Some of the surviving APF chimpanzees require hospice care, which is best provided in a sanctuary. The NIH must prioritize moving the APF chimpanzees to sanctuary without delay.
C) To obtain copies of your completed form, please print them before you select the box that says "Submit."
D) Check the box at the bottom of the page to verify that you are not a robot and then click "Submit."
E)  Please take an extra minute to click here to send your comments to your US senators and representative. Congress has important oversight responsibility for the NIH's activities and passed the law in 2000 requiring the retirement of these chimps. Members of Congress need to know their constituents are concerned that the NIH is not meeting its obligations to these animals.
Please share this eAlert with your family, friends, and co-workers, and ask them to take action, too. Thank you for speaking out on behalf of chimpanzees in labs who deserve to be in sanctuaries!
Sincerely,
Cathy Liss
President
P.S. Follow us on Facebook, Twitter, and Instagram for other important animal protection actions and news.
Photo From Chimp Sanctuary by NJ Wight